Her Daughter's Dream
Francine Rivers, Author
Wednesday, September 07, 2011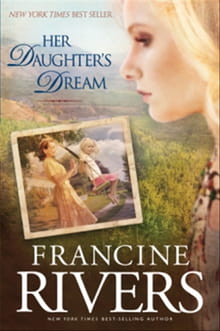 Carolyn often went outside after Charlie went to school. One day she picked daffodils that had sprouted up from bulbs Mommy had planted a long time ago. Mommy loved flowers. They made her happy. When Carolyn had a fistful, she went inside, crept along the corridor to Mommy's room, and opened the door. Mommy lay on her side, sleeping. Carolyn tiptoed to the bed. She stood chin level with the top of the mattress.
"Mommy?" Reaching up, Carolyn touched her mother's hand. Her mother's eyes flickered open. A smile curved her mouth. Carolyn held up the daffodils. "I brought you flowers, Mommy, to make you feel better."
Mommy's expression changed. Pulling up the sheet, she covered her mouth. "You're not supposed to come in here, Carolyn. Go! Now!"
Her lip trembled. "I want to be with you."
"You can't be with me." Her mother's eyes filled with tears. "Get out of here, Carolyn. Do what you're told."
"Mommy . . ." Carolyn reached out to give her the flowers.
Her mother reared back. "Mama!" Mommy started to cough. "Get away from me!" she choked out between coughs. When Oma appeared in the doorway, Mommy waved frantically. "Mama! Get her out of here! Get her away from me!" Sobbing now, still coughing, Mommy bunched the sheet over her mouth and hunched over. "Keep her out!"
Oma hustled Carolyn out of the room and closed the door firmly. Frightened, confused, Carolyn wailed. Oma picked her up and carried her into the living room. "Hush now! You didn't do anything wrong. Listen to me." She sat in the rocker. "Mommy's sick. You can't go in that room. If you do, she'll go away again. You don't want that, do you?"
"No." Why couldn't she go in? Oma did. Daddy did. Charlie stood in the doorway and talked to Mommy. Why did she have to stay away?
"Shhhh . . ." Oma lifted Carolyn into her lap and rocked her. Carolyn stuck her thumb in her mouth and leaned against her grandmother. "Everything is going to be fine, Liebling. Your mother is going to get better. You'll have plenty of time with her then."
Carolyn never went into Mommy's room after that. The closest she came was standing against the wall outside the door when Oma took in a tray of food. She could catch a glimpse of Mommy then. When the weather warmed, her mother came out of her room wearing a pair of slacks and a sweater. She sat on the front porch, where Oma served tea, egg salad and dill sandwiches, and pecan cookies. Carolyn waited inside until Oma told her she could come out, too. She sat in the chair on the farthest end of the porch as far away from her mother as she could get. Her mother drew the blue sweater more tightly around her thin body. "It's cold."
Oma poured tea. "It's seventy- three degrees, Hildemara Rose. You need fresh air."
"It's hard to keep warm even with the sun shining, Mama."
"I'll get you a blanket." Oma put another sandwich on Mommy's plate.
"No blanket, Mama. It's better if we try to look as normal as possible."
"Normal? The neighborhood already knows, Hildemara Rose. Why do you think they all stay away?" Oma gave a tight laugh. "Cowards! The lot of them."
Mommy nibbled at the small sandwich. "You're a wonderful cook, Mama."
"I learned from the best." Oma set her teacup in its saucer. "I learned from Rosie's mother. They had a hotel. I've told you that, haven't I? Chef Brennholtz tutored me at the Hotel Germania. He returned to Germany and got caught up in the war. Last I heard, he was chef to one of the ranking Nazis. After Warner Brennholtz, I worked for the Fourniers in Montreaux. Solange shared her French recipes. Lady Daisy's cook, Enid, taught me how to make these tea cakes." Oma talked about Lady Daisy's love of Kew Gardens. Oma pushed her in a wheelchair, and they visited the park every day. "It was hard work, but I never minded. I love English gardens. Of course, it's too hot in Murietta. . . ."
Recently on First Chapters
Have something to say about this article? Leave your comment via Facebook below!
advertise with us
Example: "Gen 1:1" "John 3" "Moses" "trust"
Advanced Search
Listen to Your Favorite Pastors