Hitler in the Crosshairs
Maurice Possley & John Woodbridge, Authors
Wednesday, May 25, 2011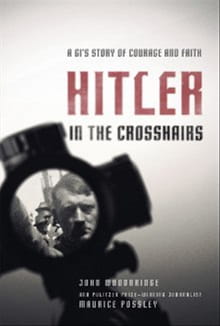 EDITOR'S NOTE: The following is an excerpt from Hitler in the Crosshairs by Maurice Possley & John Woodbridge (Zondervan).
Chapter 1
"Ira Henry Palm."
The name echoed through the auditorium at Mount Vernon High School, and a young man rose from his chair in the third row and strode toward the stage wearing the wide, toothy grin that had long disarmed and charmed family and friends in this New York town less than twenty miles north of Manhattan.
Ever the athlete, he moved fluidly and confidently on this June evening in 1932. Still, he fought a ripple of unease. He knew that his academic record over the past four years was spotty at best, and he was not prepared to fully relax until Principal Hugh Stewart placed his diploma in his hand. For reasons that would ever remain a mystery, Palm's diploma bore the middle name of his older brother, Clifton, and not his true middle name, Arterburn. But over the years, he had made clear that he was not all that fond of the name Arterburn in the first place.
Arterburn was his mother's maiden name and came from a long line of pioneers who settled originally in the Shenandoah Valley of Virginia. Some of their descendants had loaded their possessions onto a flatboat and floated down the Ohio River until reaching the banks of Beargrass Creek in Louisville. There the Arterburn family settled in St. Matthews, Kentucky, in the late eighteenth century. Over the next decades, the Arterburns established successful careers and excellent reputations as farmers, horsemen, bankers, and civic leaders. They attended colleges, including Yale. At one time, the family estate consisted of more than one thousand acres and by the mid-1850s, the Arterburns were living a life of comfort and ease, aided by resident slave families who took care of the household chores, attended to the needs of the children, cooked, raised crops, and managed the livestock.
Slavery was a big business in Kentucky at that time, and Louisville was the launching point for thousands of men and women to be shipped to large plantations farther south. While awaiting buyers, slaves were shackled together in pens at the four large slave markets operating there, including one owned by the Arterburns.
Mary Jane Taylor, a slave who helped care for the Arterburn children at this time, would say many decades later that life on the Arterburn estate was free from the cruelty and abuse frequently inflicted on slaves on farms and plantations across the South. After the Civil War, estate owner Norbourne Arterburn gave Christmas gifts and cash to all of the family's slaves and, she recalled, "Then he told us we were free."
It is impossible to know how heavily the stigma of slave trading hung over the family, but by the time Palm received his diploma, it had been erased from the name Arterburn. His mother, Susan, had been born in 1889, third of the eight children of Clifton C. and Georgia Arterburn, all of them living in a stately, two-story home surrounded by six hundred crab apple trees just outside Louisville.
Clifton, or C.C. as he was commonly known, was a horse breeder and sportsman who regularly traveled to Indiana and other states to race trotters. Sadly, his other passionate pursuits were heavy drinking and gambling, and as the twentieth century neared, the family reaped the sorrows of his bad habits: the farm and virtually every stick of furniture in the house had to be sold to pay off debts.
When a friend offered him a railroad job, the family moved to Mount Vernon, then a burgeoning town of twenty-one thousand whose growth was fueled by New York City residents fleeing the rising cost of living. The family had barely established a toehold there when, in brutal back-to-back fashion, Susan lost both of her parents. She was fifteen when her mother died after a short illness in 1905; the following year she lost her father when, drunk, C.C. toppled from a train platform and died under the wheels of a passing locomotive.
Recently on First Chapters
Have something to say about this article? Leave your comment via Facebook below!
advertise with us
Example: "Gen 1:1" "John 3" "Moses" "trust"
Advanced Search
Listen to Your Favorite Pastors