Hitler in the Crosshairs
Maurice Possley & John Woodbridge, Authors
Wednesday, May 25, 2011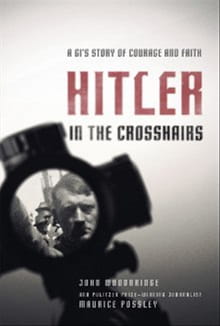 In 1907, eighteen-year-old Susan met twenty-six-year-old Fred Palm at a dance sponsored by the Mount Vernon Fire Department. A native of New York City, Fred was one of eight children and worked as a Mount Vernon firefighter, as did his father and one of his brothers. He and Susan married in November of that year, and though Susan was a Presbyterian, she consented to be married by a Catholic priest because Fred had been raised a Roman Catholic.
Their first child, Gladys, was born in 1909. The second, Clifton, arrived two years later, and Ira was born January 11, 1913. He weighed barely six pounds at birth, and family members and other relatives so frequently remarked on how "teeny" he was that he was dubbed "Teen," a nickname that stayed with him his whole life. The family's last child, Doris, was born in 1927.
They lived in a three-story frame home that was alive with activity during Teen's early years. Rooms on the top floor were rented out to college students, as well as to young men trying to launch their careers and the occasional relative who had fallen on hard times. These tenants, known collectively as "the boys," frequently joined the family for dinners and participated in animated discussions and played cards in the living room.
During the holidays, the dining room table groaned under the weight of plates and cutlery and food for as many as twenty family members, tenants, and friends. Afterward, as the adults conversed about politics, sports, and other news of the day, Teen would slip away either to play with the other children or find some sort of mischief.
The front door of the home opened onto an entrance hall and a staircase with a wooden banister. The only telephone in the house stood sentinel-like on a table. There were two connected living rooms, one dominated by a piano, where the family often gathered to sing whenever Gladys played. The rear living room, with its fireplace, was Fred's cozy retreat. He could often be found there, sitting in a large easy chair, munching jelly beans while listening to New York Yankees baseball games on his brown wooden RCA radio. Teen knew that if he really needed to speak with his father on a summer afternoon, he could find him in this room listening to the radio. In these days before air-conditioning, Fred Palm did not mind if the room got stuffy, and it did, as long as the Yankees won, and they did, dominated by Babe Ruth and Lou Gehrig from the time Teen was twelve.
Fred Palm was a quiet man who usually kept to himself, preferring solitude to the often-hectic household and the strains of family life. After being struck in the eye by a nail and therefore no longer able to work as a firefighter, he began to earn a modest living as a handyman and carpenter. But "Pop," as everyone called him, preferred to stay at home and seldom ventured out even when Susan and the children went on vacation or visited relatives. He was a tinkerer as well, and he shared his skills with his sons. By their mid-teens, Teen and Cliff were regularly and proficiently working on the family car and doing carpentry work.
Susan spent most of her time in the large and sunny kitchen at the back of the house. Teen adored his mother and was often in the kitchen, seeking her counsel or just to pass time as she kneaded dough, chopped onions, peeled apples for pie, or carried steaming platters of food into the adjoining dining room. Just before each meal was served, she would dash upstairs and change into a proper dress and jewelry before taking her place at the table. She was a lady, retaining many of the qualities of a southern belle.
Soft-spoken and bubbling with charm, Susan was the epitome of poise. With her soft brown eyes and palpable calm, she was adept at defusing the tensest squabbles, solving the prickliest problems.
She ran the home and took care of the boarders. An excellent seamstress, she sewed clothes for the family to save money. Teen was fond of telling his childhood friends that if he ever had a million dollars, he would give her a box of Wheaties and a pile of diamonds.
Recently on First Chapters
Have something to say about this article? Leave your comment via Facebook below!
advertise with us
Example: "Gen 1:1" "John 3" "Moses" "trust"
Advanced Search
Listen to Your Favorite Pastors