Hitler in the Crosshairs
Maurice Possley & John Woodbridge, Authors
Wednesday, May 25, 2011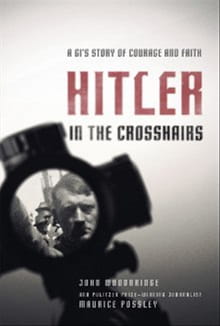 Susan took Teen and Gladys to Sunday school at the nearby Presbyterian Church. Susan had a beautiful singing voice and taught Teen to sing, chiding him to practice regularly, not at all reluctant to tell him when he was off key or when his timing was imprecise. At the urging of his mother, who somehow had managed to scrape up the money, Teen took saxophone lessons. He loved the instrument and became proficient so quickly that after his freshman year in high school, he and some friends formed a band that played regularly during summers at local clubs.
After his high school graduation ceremony, with his diploma firmly clenched in his hand, Teen partied with his friends. He was among the most popular students in the school. Handsome and outgoing, with what many said were "Hollywood good looks," Teen was also a talented athlete, good enough to have been offered a football scholarship to attend North Carolina State College of Agriculture and Engineering, in Raleigh, North Carolina.
One summer evening, not long after graduation, Teen paid a visit to the Savoy Ice Cream parlor, where, as a freshman four years earlier, he had worked as a soda jerk. He liked serving up tasty chocolate sodas, banana splits, and sundaes to customers sitting on parlor stools and facing him directly across the shiny metallic counter. The job had not lasted long. His fondness for ice cream was his undoing and he had been sneaking too many free samples.
On this night, as he sat in a booth, a few of the employees greeted him cordially and commented about his athletic scholarship. He was destined for stardom, they said. They echoed local sportswriters who had tagged him as one of the best high school players on the East Coast. One expressed the confidence that he would soon be reading of Teen's football exploits in the major New York City newspapers. Indeed, a number of sportswriters at those papers tabbed him as the equivalent of "All State." One friend said that he would eclipse the fame of another Mount Vernon native, Frank Carideo, who had gone on to be a star quarterback under Knute Rockne at the University of Notre Dame a few years earlier.
Politely, he acknowledged the praise, and soon he was alone with his thoughts, barely paying attention to his chocolate soda while staring out the window. It was hard for him to believe that his football days in Mount Vernon were over. How had they passed so quickly? He found himself feeling vaguely unsettled. The predictions of his friends felt less like encouragement than burden. Despite his athletic success, musical talent, and good looks, Teen battled a lack of self-confidence, nagged by the thought that he might be a flop as a football player in college and compounded by fears about his weak academic skills. Would he be swallowed in the shadow of his brother who was already at North Carolina State College of Agriculture and Engineering? Might it be better for him to stay in Mount Vernon, get a job, and live with his family?
A manifestation of Teen's self-doubts could be found in his selection of the motto that was placed adjacent to his senior yearbook photograph. It was awkward and enigmatic: "He wants to be good, but his eyes won't let him."
He also worried about the separation from his family — not just his parents, but particularly his mother's older sister, Nan. A second mother to him, Aunt Nan still called him "Little Boy," a habit that began when he fell ill as a youngster and she spent many hours at his bedside. Nan's only daughter, Marion, Teen's older cousin, had been lured into show business years earlier, and Nan frequently urged Teen to do the same, lauding his abilities as a singer and sax player. This wasn't empty talk. Aunt Nan knew show business. By the time Teen graduated from high school, Marion was singing and dancing in vaudeville. Marion's husband, Frank Martine, was an accomplished saxophonist and clarinetist who played in stage shows in the 1920s and would later perform with the Big Bands led by Paul Whiteman, Fred Waring, and the Dorsey bothers.
Recently on First Chapters
Have something to say about this article? Leave your comment via Facebook below!
advertise with us
Example: "Gen 1:1" "John 3" "Moses" "trust"
Advanced Search
Listen to Your Favorite Pastors