Hitler in the Crosshairs
Maurice Possley & John Woodbridge, Authors
Wednesday, May 25, 2011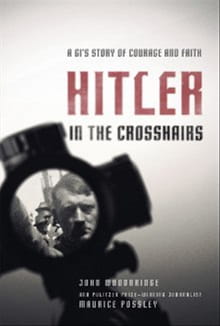 Over the years, Aunt Nan regaled Teen with stories. Marion and her husband and their two children had lived next door to Bill "Bojangles" Robinson, the great American tap dancer, and occasionally dined with the star and his family. Marion had even danced in a "Bojangles' Revue." Nan told Teen that when Marion and her husband had lived on Long Island, they lived next door to Louis Prima, the famous jazz-man, singer, trumpeter, and actor. They were so close that Prima's mother babysat the couple's two boys. Marion herself often spoke of heading to Hollywood to become a movie star.
Performers peppered the family. Teen's older sister, Gladys, worked as a legal secretary during the day and at night was a tap dancer at Proctor's Theatre in Mount Vernon, well known for its vaudeville shows and the place where Babe Ruth had made his "singing" debut in 1921.
Teen was never much of a student, never at ease in the classroom. His home was the stage — singing and playing sax. He was more than pleased that his band had a number of appearances booked in the days before he was to leave for college. But he also wondered seriously if he should forget about college and instead try to get work with local bands around Mount Vernon and, perhaps, eventually hook up with a touring Big Band. Maybe Marion's husband could introduce him to some of his musician friends, the leaders of the bands that played at the Glen Island Casino, a popular dance club overlooking Long Island Sound.
Leaving the ice cream parlor for the short walk home, Teen was dreaming of his name in the headlines and on theater marquees while also hearing the words of Principal Stewart on graduation night when he admonished the senior class: "I would that your talents and those of the thousands of graduates of other schools might be dedicated to the perplexing problems of the day in such a manner that this year 1932 might mark the birth of a new era in the social, political, economic, and international history of our nation."
A week later, Teen was on stage singing and playing his saxophone with his band in a small New Rochelle club. Shortly after midnight, he and his friend Charles Tividy began the ten minute drive to Mount Vernon. As the car sped down Winyah Avenue, Tividy behind the wheel, the screeching of tires shattered the early morning stillness. That was followed by a booming crash as the car collided head-on with another vehicle. Tividy's sedan was pancaked over the other vehicle, and the front ends of both cars met in a terrified mess of mangled bumpers, contorted wheels, and shattered headlights.
The impact propelled Teen through the front of the car and over the hood. Fortunately, there was no glass in the windshield. He lay on the ground, bleeding but conscious, as both cars burst into flames. People streamed from their homes and some pulled Teen, Tividy, and the driver of the other car away from the burning wreckage. A passing car was hailed to take them to the nearest hospital. Gingerly, Teen was placed in the back seat of the car, and off it sped. Fighting shortness of breath and wracked with pain, Teen could only nod when the driver said he would get him medical help as quickly as possible.
But incredibly, as the car sped away, it collided with another vehicle. Already experiencing pain in his chest after the first crash, Teen felt new pains attack the rest of his body. Minutes passed before he was extricated and transported in a third car to the hospital.
He was rushed into surgery and emerged several hours later in a body cast. His doctor told him, "You are lucky to be alive," and Teen understood and felt happy to be alive, and to learn that Tividy and the other driver had also survived. But he was staggered to hear he would be confined to bed for six months.
The implications were obvious. He was not going to attend college in the fall. He would not be playing football. There would be no scholarship. Would he ever be able to sing or play music again?
Recently on First Chapters
Have something to say about this article? Leave your comment via Facebook below!
advertise with us
Example: "Gen 1:1" "John 3" "Moses" "trust"
Advanced Search
Listen to Your Favorite Pastors