Hitler in the Crosshairs
Maurice Possley & John Woodbridge, Authors
Wednesday, May 25, 2011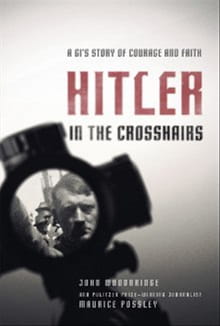 Slowly and painstakingly, drawing upon the determination that would later define his life, Teen fought his way back. When he was finally able to get free of the body cast, he was physically weak. But he was able to focus on and find great solace and hope in his music, practicing his saxophone and his repertoire of songs. And a year after the accident, he was once again going out regularly to dance and listen to music.
But despite his successful recovery, he felt adrift, his future uncertain. Money was tight at home. His father was finding fewer and fewer carpentry jobs. Teen considered seeking a full-time job so he could contribute to the economic support of his family. But what job?
Then, one hot summer day in 1933, the phone rang at the Palm household. The caller identified himself as Jimmy Poyner. He said he had met Cliff, Teen's older brother, while both were attending North Carolina State College. Poyner said he was putting together a band with other students from that college, Duke University, and the University of North Carolina.
"And we're calling ourselves the 'Southern Pines Orchestra,'" Poyner said.
He asked about Teen's car crash and his recovery, then got to the point: "Cliff says you've spent a lot of time at the Glen Island Casino. He tells me you listen a lot to the sweet music of Glen Gray and the Casa Loma Orchestra. He says you admire their singer, Kenny Sargent. Well, that's all well and good, but Cliff says you can sing just as good as Sargent."
Teen was stunned. Sargent was his idea of the perfect ballad singer.
"Thanks, Mr. Poyner," he said, shyly. "He is my favorite singer, all right. Really smooth."
"Right, I know," Poyner said. "But the rest of the boys and I want to invite you to try out for a position in our orchestra. Saxophonist and ballad singer. Why don't you come down to Raleigh a couple of days before school starts? A couple of the boys and I will meet you at the Raleigh train station. Then we'll head down to Southern Pines, where we've been practicing. You try out. If you're anything close to the musician your brother says you are, we want you in our band."
Poyner paused, awaiting a response. But Teen was too stunned to speak.
"Okay, then. Just think about it," Poyner said. "Don't decide now. But I hope I see you soon."
Dazed, Teen hung up the phone. As he tried to process what he had just heard, his mind was a wild swirl of questions: Could this be his big show business break? What if he failed? Could he make enough money as a musician to pay for his education now that his football scholarship was gone? What if he failed? Would his mother and father believe him a fool for trying to go to school and play in a band at the same time? What if he failed? What if he failed? What if he failed?
These thoughts, these worries, these questions dogged him for days and were still with him a week later when he walked into the Glen Island Casino. The dance floor, which could accommodate up to one thousand eight hundred people, was packed. Built in 1930, the casino had become one of the premier entertainment centers on the East Coast, with performances broadcast on radio to increasingly large audiences. Many of the great entertainers of the day performed here: the Dorsey brothers, Benny Goodman, Ozzie Nelson and his band, and on this night Glen Gray and the Casa Loma Orchestra, featuring the golden-throated Sargent.
As couples glided across the dance floor, others dined on white-linen-topped tables. With the last notes of "Doing the New York," the lights around the large dance floor dimmed. Sargent took his place underneath a spotlight and behind a microphone on the white riser bordering the dance floor. A minor stampede of dancers, including Teen, rushed toward the stage.
Recently on First Chapters
Have something to say about this article? Leave your comment via Facebook below!
advertise with us
Example: "Gen 1:1" "John 3" "Moses" "trust"
Advanced Search
Listen to Your Favorite Pastors