Homemade Haunting
Rob Stennett, Author
Tuesday, April 19, 2011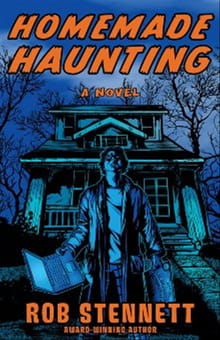 We didn't raise you to act like an animal. If you can't be civil then we won't let you play outside at all." After that I'd be grounded for two weeks.
But on that day it was different. I knew it was something serious, but their tone was gentle and soft. Something bad was about to happen. "I just got back from the doctor. He said I'm sick, honey," Mom told me. Then she started to cry. I felt like I wanted to cry too, but I didn't know exactly what was going on.
"Your mother has cancer. Do you know what cancer is?" my dad asked.
"Yes," I answered, even though this wasn't completely true. I knew there was such a thing as cancer; I knew cancer was a scary and serious word, but what it was exactly and how it worked was beyond me. My parents accepted my "yes" because they didn't want to get into the specifics. Besides, they were as mystified as I was.
"They're going to give her treatment," Dad said. "And the treatment is going to work, but the medicine will make her tired. So we need you to be really good right now. Help around the house. Don't get into any trouble. We've all got to pull together to fight this. Okay son?" Dad said.
The treatment did not make her better. It made her skin brittle, it made her lose her hair, it made her sit on the couch around the clock and watch soap operas. And I would sit at the other end of the couch and discuss the plots of General Hospital with her. She was too weak to get up and change the channel (back then, we could only imagine what it would be like to be one of those families who could afford a TV with a remote; we couldn't afford much of anything with all of her hospital bills stacking up) so my primary job for this portion of her life was to switch the TV from General Hospital to Guiding Light to Days of Our Lives.
Toward the end Dad told me, "It's looking bleak, son.
We're going to need a miracle for her to make it now." My dad was raised Catholic so we started going to mass to pray for her. I remember going up to this altar and lighting a votive candle for Mom. I remember sitting and staring at that candle and imagining God way up in heaven looking down at us on earth. I pictured God using his X-ray vision to look inside the church and see my candle burning so brightly and profoundly that he would use his powers to heal my mother.
I fully expected I would come home from church to find my mother completely healed. She would pick me up and kiss me over and over again and say, "I'm healed!" through her tears.
But every time I got home she'd still be lying on the couch — brittle and as close to death as ever — watching soap operas. We recorded soap operas over every VHS tape we owned so Mom could watch them day and night. We recorded Guiding Light over The Twilight Zone, As the World Turns over Jaws,** and General Hospital over season 2 of Silver Spoons.†
Our lives were being taken over by bad dialogue and unbelievable plot twists. But they were all Mom wanted to watch. Game shows were too loud; sitcoms too silly; my horror shows were too scary. Mom found her only solace in affairs and mistaken identities and confessions of secret desire.
Mom watched soap operas (it got to where she almost never left the couch) while Dad and I went to church to light candles and pray for her. And it was one night when I looked at all the lit candles and wondered how many of those were for other moms who were dying of cancer. Why didn't we hear good stories of things happening with these candles? Why was it the same people every Saturday night, the same hopeless stares, the same candles flickering pointlessly?
Recently on First Chapters
Have something to say about this article? Leave your comment via Facebook below!
advertise with us
Example: "Gen 1:1" "John 3" "Moses" "trust"
Advanced Search
Listen to Your Favorite Pastors