Hungry for God
Margaret Feinberg, Author
Wednesday, June 15, 2011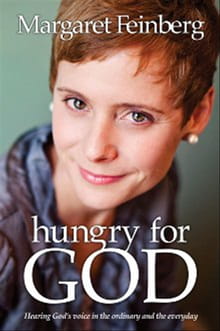 Yet I was growing in my faith, recognizing the importance of reading the Bible, and finding God's voice in my life — if I was willing to listen.
One issue God seemed to be silent on was what I should do after college graduation. I struggled with why God didn't seem to be providing any guidance or direction — worrying that maybe he did, and I missed it. Without an inkling, I filled out applications and collected rejection slips. From the few positive responses, I accepted an internship at a magazine I'd never heard of before in Lake Mary, Florida. I spent the summer learning about publishing and stumbled into a career of writing and communicating, a career which, looking back, God had designed me for.
You are mine; you are not your own still resonates in my being years after that Christian conference I attended in college. The words were a turning point in my life. One of the mysteries and marvels of life is that we never know when God will speak or how the words will transform our lives forever.
Hearing from God is foundational to a vibrant spiritual relationship with him. We're created with the capacity to know what brings God delight and to recognize his involvement in our lives. We're meant to discover God's passions, pleasures, and pains, designed to recognize his voice and its inflections. I don't know if my mom had these things in mind when she prayed for me years ago, but I still feel the ripples of her divine request.
God Beckons
God's voice always contains an invitation to know him more, and the process of listening for God beckons us to grow in our knowledge of both the temporal and the transcendent.
Such is the lesson in 1 Kings 18 – 19 when Elijah answers the invitation to follow and know God with abandon. Given a "mission: impossible" by God, Elijah is instructed to speak out against the false prophets and wicked leaders ruling over the land. His decision to obey leads to a fiery showdown on top of Mount Carmel in which the false prophets are defeated and Elijah becomes the target of the wicked leaders' scorn. He escapes with his life, but falls into deep depression. He begs God to let him die. God refuses. Though Elijah doesn't feel particularly hungry for God, his body cries out for food. Twice God sends an angel to feed Elijah, and, strengthened by the meal, Elijah travels to Mount Horeb.
Horeb — a name used by some biblical writers to refer to the Sinai region — is, in the Hebrew Scriptures, one of God's favorite places to offer invitations. Here God calls Moses2 and invites the Israelites into a divine covenant.3 At Horeb the Israelites accept God's invitation to travel to Canaan and Kadesh-Barnea.4 It's no surprise, then, that God meets Elijah in this special place to invite the prophet into a deeper relationship.
Elijah is just coming off the crowning achievement of his career: God was faithful to honor his every request as he defeated the false prophets at Carmel. But Queen Jezebel decides to rain on his party. She places a price on his head and promises to have him killed.
"How could this be, God?" Elijah must have wondered.
"Did you give me victory only to allow defeat?"
Emotionally drained, the depressed prophet shuffles into a cave on the side of the mountain. He's physically spent. In the midst of the wilderness of silence, God calls Elijah by name, asking, "What are you doing here?"
The prophet rips into God, alleging that his fervent dedication and willingness to risk everything has been in vain. The Israelites have rejected God, destroyed the holy places, and killed the true prophets anyway. With a bounty on his head, Elijah has nowhere to go.
God doesn't address a single one of Elijah's allegations; but he does respond. He instructs Elijah to stand on the side of the mountain and wait for his passing.
Recently on First Chapters
Have something to say about this article? Leave your comment via Facebook below!
advertise with us
Example: "Gen 1:1" "John 3" "Moses" "trust"
Advanced Search
Listen to Your Favorite Pastors