Learning to Own It
Michael DiMarco, Hayley DiMarco
Wednesday, September 25, 2013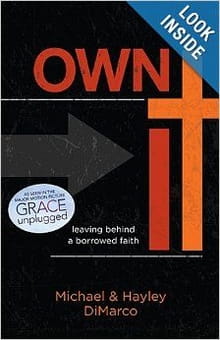 It can be easy to confuse the life of faith with the act of doing, but they aren't the same thing. Certainly, when you experience God's love and His saving grace, you want to do things for Him and with Him, but it is out of love and not out of necessity as payment for your faith. That price was already paid, and not by you or any other human being, but by God Himself. As it says in Ephesians, "For by grace you have been saved through faith. And this is not your own doing; it is the gift of God, not a result of works, so that no one may boast" (2:8–9 esv).
The trouble with renting your faith is that it puts all of the reliance for salvation on self-effort rather than on God. When that happens you wear out quickly, you feel burnt out and tire easily of the hard work of obedience, which you believe leads to your salvation. This is what happens when you see a hard-working religious person who has walked away from their professed faith. They put all of their hope in their ability to be good, rather than in God Himself. When they run out of strength they run out of their payment for the faith, and end up losing their rental.
But when you own it—really own it—you have no need to make payments in order to keep it because it already belongs to you. This is called justification. You don't have to justify yourself by working hard to gain God's approval. Just look at the life of Abraham the father of the faith: "For if Abraham was justified by works, he has something to boast about, but not before God. For what does the Scripture say? 'Abraham believed God, and it was counted to him as righteousness'" (Rom. 4:2–3 esv).
Abraham was righteous because of his undying faith and trust in God. He believed God more than he even believed his own feelings. When God asked him to sacrifice his most prized possession, his son, he believed God was good and so were His commands. Abraham acted, and this undying devotion to God displayed his faithfulness. He was justified by his faith in God, by the Father's ability to be good far beyond Abraham's understanding.
As long as your idea of faith requires you to make payments in order to receive the love of God, you are not an owner but a renter. God doesn't want your payments, He doesn't need them. All He wants is for you to accept His payment, the one and only payment ever needed. The payment for your life was His Son's life. And to say that additional monthly checks must be cut to save you is to say that His Son's death was a waste of a perfectly good life.
Rather than endear you to God, this way of thinking cuts you off from Him, as you take His most valuable gift and hand it back to Him in rejection of its value and necessity in your life. Such arrogance then, makes you the only salvation acceptable, makes you your own Messiah, your own perfect lamb worthy of the name Savior.

Pick and Choose It
But maybe you aren't renting, maybe you're just accepting—freely accepting the gifts of God. Maybe you accept His sacrifice with arms wide open. You appreciate all He's done for you and in return you claim Him as your savior, but you aren't sure about all this Bible stuff. "I mean, how can it all possibly be true, let alone applicable in today's day and age?" So you pick and choose.
You are a smart person with intuition, education, and common sense. And you like the way Jesus lived. What He said made sense, for the most part, but some of it had to be hyperbole, some of it was just stories and not meant to be law or anything. Like when He said, "If someone slaps you on the right cheek, give them the other one"—now that's nonsense. Common sense says you've got to protect yourself. Stand up for your rights. So not everything in the Bible is meant for today, you reason.
Recently on First Chapters
Have something to say about this article? Leave your comment via Facebook below!
advertise with us
Example: "Gen 1:1" "John 3" "Moses" "trust"
Advanced Search
Listen to Your Favorite Pastors