Look to the East
Maureen Lang, Author
Wednesday, July 06, 2011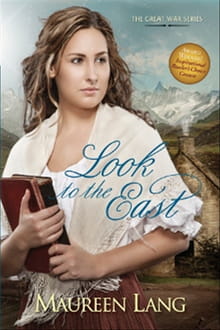 EDITOR'S NOTE: The following is an excerpt from Look to the East by Maureen Lang (Tyndale).
Once, in a little village forgotten by time, there lived two feuding families: the Toussaints and the de Colvilles. Other families inhabited Briecourt in Northern France, but their tranquil lives escape memory.
As with most enduring feuds, no one knows exactly why it began. Some say it was over une aventure—an indiscreet love between one man and a woman not his wife. Others insist money was the cause—a squabble between the miller and the baker over the price of flour. Still others recall it beginning with a simple difference of opinion on the faults and merits of Napoleon between two old men sharing a cup of chocolat. . . .
It is not, however, the origin but rather the result that matters. One hundred years later, even the purest flour made into the flakiest pastry would leave a bitter taste if made by one clan and sampled by the other.
Except for one brief moment in history, the feud rages to this day. . . .
Chapter One
Briecourt, Northern France
Julitte Toussaint sucked in her breath and shut her eyes, as if by closing off her own vision she, too, might become invisible. Stuck high above the ground where someone so grown—just turned twenty and two—should never be caught, she shot a fervent prayer heavenward. Please let neither one look up! She clutched the book-size tin to her chest and went death-still in hopes of going unnoticed.
". . . those days may be behind us, Anton. At least for a while." She heard his voice for the first time, the man who had come to visit the only château within walking distance of her village. The man whose blond hair had reflected the sun and nearly blinded her to the rest of his beauty. The perfect nose, the proportionate lips, the blue eyes that, with one glance, had taken her breath away.
Now he was near again, and her lungs froze. She feared the slightest motion might betray her.
She knew the other man was Anton Mantoux without looking. He was the closest thing to aristocracy the town of Briecourt knew. Though Julitte had never spoken to him, she had heard him speak many times. Whenever the mayor called a village meeting, M. Mantoux always held the floor longest.
"You'll go back, Charles? join this insanity when you could follow me the other way?"
Charles . . . so that was his name.
"Who would have thought I had a single noble bone in my body?"
M. Mantoux snorted. "You'll follow your foolhardy king, will you?"
"Much can be said about a man—a king, no less—who takes for himself the same risks he asks others to bear. I should never have left Belgium. I know my sister never will. How can I do less?"
"Ah, yes, your beautiful and brave little sister, Isabelle. . . . What is it you call her? Isa?"
"Careful with your thoughts, Anton," said the man—Charles—whose voice was every bit as lovely as his face. "She's little more than a child."
"A child, but not much longer. And then you may have me in the family!"
Feeling a cramp in her leg, Julitte wanted nothing more than to climb down the tree and scurry away. Let them move on! she silently pleaded to God. Send a wind to blow them on their way before—
As if in instant answer to her prayer, a gust tore through the thick leaf cover of the beech tree in which she hid. In horror she watched the tin, dampened by her perspiring hands, slip from her grasp and take the path designed by gravity. She heard a dull thud as it bounced off the perfect forehead of the taller of the two men below, grazing the blond hair that so intrigued her.
Recently on First Chapters
Have something to say about this article? Leave your comment via Facebook below!
advertise with us
Example: "Gen 1:1" "John 3" "Moses" "trust"
Advanced Search
Listen to Your Favorite Pastors