Look to the East
Maureen Lang, Author
Wednesday, July 06, 2011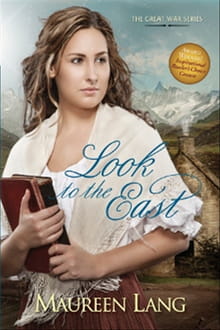 Ignoring her parched throat, Julitte circled the square until she found Oriane Bouget—Ori as she was called—who was with her grandmother Didi.
"What's happened?"
"There . . . see for yourself." Ori pointed with her chin to yet another bunch off to the side. There were the men of the village, near the town hall. The grand two-story brick structure would have fit any fine town, but here it sat in Briecourt, as out of place as a gem among pebbles. It housed the mayor's office and the quarters of the garde civique, the jail and the postal services all in one. A table had been brought outside and a man sat behind it taking down names, then sending the men one by one into the building.
"What is it?"
"They say we are at war," Grandmother Didi said in her loud way, "and all the men must go and fight." The tone of her voice accommodated her own lack of hearing, but just now it had quivered.
"War! With whom? Not the English again?" Julitte's father had told her about the many wars between the French and the English.
"No, the Germans, so they say."
"Again?" It wasn't all that long ago that France had feuded with their neighbors to the east, too. Julitte stared at the line of men, all of whom she knew. Including her adoptive brother.
"Pierre!" She left Ori's side to rush to his.
"Have you heard the news?" A wide smile brightened his youthful, handsome face. Brown eyes as sweet and guileless as anyone so naive might have, and here he was lining up . . . for war?
"What are you doing? Papa left only two days ago. Without his permission, I don't think—"
Whether it was her words or alarmed tone, Julitte caught the attention of men on both sides of Pierre. She had sat in schoolrooms with many of those in this line and knew the majority were best fit for harvesting—the sum of most dreams, the same as their fathers before them.
"Leave him be, woman!" Though his words were firm, the face of her long-ago classmate was lit with exhilaration, as if it were a holiday when anyone could be forgiven anything. "We're off to be heroes the likes of which our town has never seen. Soon this very square will be filled with statues to our bravery."
She lifted one brow. "Statues or bodies?"
"It would be a privilege to die for our country!" Pierre joined with his friend to recite the words, making Julitte believe they repeated whatever pronouncement they might have heard to form this line to begin with.
"Julitte," Pierre whispered, pulling her aside, "I must go, don't you see? Every man between the age seventeen and thirty is being called to service. I have no choice. And I want to go."
"Seventeen? But you're not seventeen until—"
"Tomorrow is close enough, so he said I must go."
Julitte found no words to counter such incredible information. How had this happened? Briecourt minded its own business; why couldn't the rest of the world do the same?
"I will go, Julitte." His words, soft but firm, left no room for doubt or argument.
She shook her head, wishing words to convince him otherwise would fall into place. None did. Instead of speaking, she handed him the tin she'd retrieved, full of his favorite wood carvings that were little more than toys. How could it be that he should be signing up for war when that box proved he was still a child? Such things were not the stuff of soldiers.
Turning away, she headed to her cottage, ignoring Ori's call. No one was home, with Narcisse at sea and her adoptive mother long since gone to heaven. But Julitte could go nowhere else just now. Her prayer corner was there. Her spirit, weighted with fear for her brother and all those in line, longed for the reassurance of knowing none were outside the boundaries of God's loving concern.
Recently on First Chapters
Have something to say about this article? Leave your comment via Facebook below!
advertise with us
Example: "Gen 1:1" "John 3" "Moses" "trust"
Advanced Search
Listen to Your Favorite Pastors