Look to the East
Maureen Lang, Author
Wednesday, July 06, 2011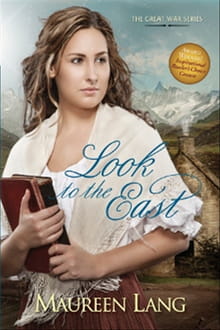 She needed to pray.
"Arrêtez! Arrêtez votre véhicule ici."
The French poilu pounded the butt of his rifle on the pristine hood of Charles Lassone's Peugeot. He had enough sense to hide his annoyance with the soldiers who'd set up this roadblock—that seemed the wisest choice when facing the barrel of a rifle. The blue and red–clad officer spoke rapid French, motioning at the same time for Charles to exit the vehicle.
He did so, skyscraping above the agitated soldier, who couldn't have been more than five feet tall. Another soldier, this one taller but still not equal to Charles's six-foot-one, came to stand before him, both of them waving their rifles in Charles's direction.
"What is this about?" Charles inquired in perfect French. Though his mother was American, his father was Belgian and a Walloon at that, so Charles had grown up speaking at least as much French as English.
"We regret to inform you, monsieur, that you may go no farther in your motorcar. You may take your personal belongings and then take yourself elsewhere."
Rifles or not, Charles lost his hold on hiding annoyance. "What do you mean, take myself elsewhere? With my motor, of course?"
"No, monsieur. Without your motor."
"Listen here, I have dual citizenship between Belgium and America. France has no claim to me or to my possessions."
"Necessity outweighs all laws of any country, monsieur. Now please empty the vehicle of your belongings and then be off."
"I will not." Grabbing the handle of his motorcar door, Charles moved no farther until the tip of the soldier's rifle grazed his temple.
"All motors are being requisitioned for service, monsieur. If not here, then several miles down the road by your own Belgian government. We are now united against a common enemy, and whether you donate the motor here or there makes no difference. You see?"
Charles did not see at all. If his motor had to be requisitioned, he far preferred to surrender it to a Belgian soldier. But as one could not be found, there was no point in arguing.
He retrieved his bag and jacket from the rear seat, then watched with a heart nearly as heavy as the motor itself while yet another French poilu resumed Charles's seat behind the wheel and drove off, the crunch of crushed stones sounding beneath the little-worn tires. No doubt the 1913 blue Peugeot would be in the hands of a French officer before nightfall.
"Can you direct me to the nearest train station?" he asked of the remaining soldiers. They had regrouped into the same circle they had been in when Charles spotted them alongside the pile of logs they'd set up as a barrier on the old Roman gravel road leading to the Belgian border.
A snicker here and there gave him little hope of the easy answer he sought. One, the man who had first pounded on the hood of the motor, faced Charles.
"A station will do you no good, monsieur. All trains between our two countries have been requisitioned. They are now used exclusively for troops." He lifted one of his feet and tapped a dusty boot. "A hike is in store for you." Then he laughed along with the others.
Without a word, Charles started walking. At first his steps were slow, but after a moment he picked up his pace. Maybe he should be grateful only his motorcar had been impressed into duty.
Copyright © 2009 by Maureen Lang. All rights reserved.

Published in association with WordServe Literary Group, Ltd., 10152 S. Knoll Circle, Highlands Ranch, CO 80130.

Scripture quotations are taken from The Holy Bible, King James Version.
This novel is a work of fiction. Names, characters, places, and incidents either are the product of the author's imagination or are used fictitiously. Any resemblance to actual events, locales, organizations, or persons living or dead is entirely coincidental and beyond the intent of either the author or the publisher.
Visit Tyndale's exciting Web site at www.tyndale.com
Check out the latest about Maureen Lang at www.maureenlang.com

Recently on First Chapters
Have something to say about this article? Leave your comment via Facebook below!
advertise with us
Example: "Gen 1:1" "John 3" "Moses" "trust"
Advanced Search
Listen to Your Favorite Pastors