Miracle for Jen
Linda Barrick, Author
Wednesday, March 14, 2012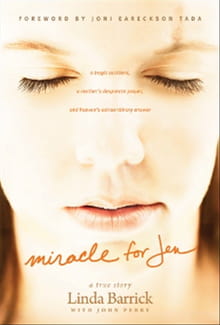 EDITOR'S NOTE: The following is an excerpt from Miracle for Jen by Linda Barrick (Tyndale House).
Chapter 1
ALMOST PERFECT
You saw me before I was born. Every day of my life was recorded in your book. Every moment was laid out before a single day had passed.
Psalm 139:16
Lord, this life that I now live is not mine but Yours. It is Yours to do with it as You please. . . . Take this year and my life and allow Your glory to shine! Take it and use it to its fullest potential.
—Jen's journal, three months before the crash
My cell phone was ringing.
My brain reacted automatically. I knew I should reach down to-ward my feet and fish the phone out of my purse. But my body wasn't moving. I had no feeling anywhere, only a sensation of being restricted as if I were wrapped in a steel blanket.
I opened my eyes. My face was smashed against a windshield of crushed glass. How did I get here? Is this a dream? Wasn't I just sitting with my husband and son watching our fifteen-year-old, Jen, sing in the choir at her school's fall concert?
I reached down with my right hand to touch my leg, and when I lifted my hand up again it was covered with blood.
This can't be real. Lord, please wake me up!
"Mom? Mom?!"
I heard Josh calling for me from the backseat. I couldn't turn around to see him, but I answered anyway. "Josh! Josh!"
"Mom!"
"Is this real?!" I asked. "Is it a dream?" I didn't hear an answer so I said again, "Is this real?"
"Yes, Mom, this is real."
In anguish, I cried out, "Lord Jesus, please help us! Come to our rescue! Save us!"
Josh and I both began to pray out loud. "Father, please don't let Jen and Andy die! Oh, God, help us! Please don't let them die! You are all powerful. You can do anything! We need a miracle!"
Then my husband, Andy, started to stir. "Where are we?" he asked groggily. "What's happening?"
He was in shock and didn't answer any of our questions, but at least he was alive. Jen remained silent and still in the seat behind Andy's.
As a mom, I wanted with every molecule inside me to hug Josh and touch him and make him feel better. I wanted to hold Jen in my arms and tell her that I loved her. But I couldn't move. The crushed metal and broken glass encased my body like a giant, sin-ister glove.
The only thing I could do was pray.
Only an hour earlier, I had been sitting in our church sanctuary as music washed over the audience in waves, filling the room with sounds of praise and the pulsing energy of young hearts on fire for Christ.
For the first few verses, the choir stayed in the background as the soloist sang about the awesome and inexpressible love of Jesus. Then with a swell of strings and a kick of the drums, the choir stepped into the musical spotlight, each singer moving to the rhythm of the orchestra, swaying with the beat, some lifting their hands as they joyfully praised their incredible, all-powerful Savior:
Wonderful, glorious, holy, and righteous,
Victorious conqueror, triumphant and mighty,
Healer, deliverer, shield, and defense,
Strong tower and my best friend,
Omnipotent, omnipresent, soon-coming King,
Alpha, Omega, Lord of everything,
Holy, holy, holy is your name!1
Recently on First Chapters
Have something to say about this article? Leave your comment via Facebook below!
advertise with us
Example: "Gen 1:1" "John 3" "Moses" "trust"
Advanced Search
Listen to Your Favorite Pastors