Miracle for Jen
Linda Barrick, Author
Wednesday, March 14, 2012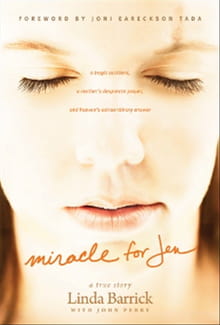 Of all the singers from Liberty Christian Academy onstage that night, one stood out especially to me: a beautiful, auburn-haired sophomore who seemed transformed by the words and music sur-rounding her, completely focused on conveying her passion for Christ to the audience. Maybe it was because the video monitors flanking the stage kept showing her face, beaming with enthusi-asm. Maybe it was because she was on the end of a row and had room to move a little, while most of the students stood shoulder to shoulder on banks of risers.
Or maybe it was because I'm her mother.
Jennifer had been anticipating this fall concert for weeks, looking forward to the privilege of singing in the Sunday night church ser-vice for more than three thousand people. It was her first perfor-mance with the high school choir, and Jen always loved new expe-riences. I was a little surprised she wanted to be in the group since, for all her many gifts and talents, Jen did not have what I'd call a fabulous voice. God had blessed her in so many other ways—she was a straight-A honor student, varsity soccer player, and nationally ranked varsity cheerleader—and she hadn't seemed that interested in choir before. However, in typical Jen fashion, what she lacked in natural ability she made up for in en-thusiasm and hard work.
Sophomore year was shaping up to be her best yet, part of an incredible season of transformation taking place right in front of me. It seemed like just yesterday she was running around in a baseball cap and mud-stained clothes, spitting sunflower seeds. I would often have to beg her to comb her hair. Now she was blos-soming into a beautiful young lady. The braces had come off after two years, revealing a dazzling new smile. Just recently she'd got-ten her first formal dress to wear to the junior-senior banquet. I'd scarcely recognized the glamorous, elegant woman who had come out of Jen's bedroom when her date arrived to pick her up.
Only two nights before the concert I'd been at the football game to watch her cheer. She was so exuberant and full of life, going all out with every jump like she always did, her face glowing with energy and excitement. Now here she was onstage, just as intent on doing her best with the choir as she was with the soccer team or the cheering squad. I could not have been more proud of my precious ­daughter. Her life seemed almost perfect!
Music was good for Jen because it was a fresh way to express her faith. She was such a friendly, popular girl, yet all her life she had held her thoughts inside. Spiritually and emotionally she was a very private person. She didn't talk much to me or to anybody else about what was on her mind and heart. As deeply committed to Christ as Jen was, and as much as she wanted her friends to know Christ the way she did, it wasn't a natural thing for her to witness one-on-one. When her youth group went door-to-door sharing God's love with strangers, she was always the one standing quietly in back, never saying a word.
In fact, one of my prayers for Jen that year had been for boldness. She'd asked me to pray for her to find a way to express her private relationship with God out loud. Music gave her a tool to shout out her love. That's why I think she sang with a special radiance that night at her musical debut.
The song she was performing heightened her sense of excitement even more. "Lord, You're Holy" was one of her favorites, especially the part in the middle where the choir takes the lead, describing the unbelievable, unfathomable depth and richness of God's love. She'd sung those lyrics around the house all week.
I didn't know it at the time, but that very afternoon Jen had writ-ten about the upcoming concert in her journal. The pages of her daily journals were the one place where the deep, tender spirit of Jennifer Barrick was fully revealed. There, in goofy, unassuming spiral notebooks decorated with polka dots or cartoon characters, she wrote letters to Jesus like He was her best friend. Only hours earlier, anticipating this moment onstage, she had told Him:
Recently on First Chapters
Have something to say about this article? Leave your comment via Facebook below!
advertise with us
Example: "Gen 1:1" "John 3" "Moses" "trust"
Advanced Search
Listen to Your Favorite Pastors