Miracle for Jen
Linda Barrick, Author
Wednesday, March 14, 2012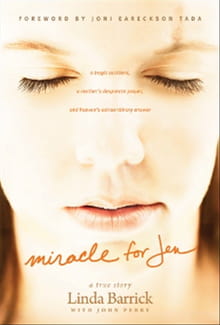 Lord, the only way I feel worthy to sing this song is on my face before You! This song can't even describe You to Your true fullness! Mere words cannot express You! Lord, I love this song b/c it helps put things in perspective! It lifts Your name on high! You are worthy of all my praise! And the only one deserving all my worship!
The music rocked to a big finish. Before the last note sounded, the audience of parents, friends, and church members rose as one, their cheers and applause roaring through the spacious sanctuary of Thomas Road Baptist Church, home of Liberty Christian Academy and partners in ministry with Liberty University, where my husband, Andy, was director of alumni relations. He was beside me in the audience that night, along with our son, eleven-year-old Josh. Like his dad, Josh loved sports and would probably not have put a choir concert first on his list of favorites for a family outing. But he obviously enjoyed seeing his sister onstage.
Andy and Josh had slipped into the performance just in time. Jen and I came to church by ourselves that afternoon because the guys were on their way home from a baseball tournament Josh played over the weekend. They were with our friend Dr. Tim Clinton and his son, Zach, who was also in the tournament. Tim's daughter, Megan, sang in the concert that night too, so the ball-players stopped by our house for a quick shower and then came to church in Tim's car. That way Andy, our kids, and I would be able to ride home together. It would be great to spend the time catching up on each other's adventures. Besides, as Andy knew, I hated driving in the dark.
Once the applause tapered off and the crowd sat down, the speak-er for the evening took his place at the lectern. My father, Dr. Ed Hindson, preached that night on prophecy. I've heard Dad, a dis-tinguished professor at Liberty University, speak thousands of times since I was a little girl. His insights, based on years of study and teaching from the book of Revelation, have inspired untold numbers of people. On this particular night, I sensed that his preaching was especially anointed. By the end of his sermon the entire audience seemed stirred. More than a hundred came forward to pray.
After the closing prayer, the audience stood, buzzing with pent-up energy and moving toward the exits. Outside it was crystal clear with an autumn snap in the air, unseasonably cold for early November in Virginia. Josh wore only a T-shirt and jeans, but we'd be home in no time so it didn't really matter. Heading toward the parking lot, Andy and I made a point of reminding several couples that they were invited to our house for an impromptu postconcert supper and to watch football on TV.
I saw Jen talking—let's be honest, flirting—with her boyfriend, Brandon. Curly-haired and blue-eyed, he was a handsome young man. He was a senior and had just turned eighteen, which initially had my motherly antennae on high alert. However, over the months they'd been dating he had proven himself to be a Christian gentleman in every way. I'd even relaxed my "no riding with teenage drivers" rule to let Jen ride with him. Since the rest of his family would be coming to our house in a few minutes anyway, I decided to let him drive her home.
"Did you drive tonight?" I asked him.
"No, ma'am," he answered with his unfailing Southern manners. "I rode with my parents."
For a second I considered letting Jen go with the Knight family. Then I realized that between Josh's baseball and Jen's cheerleading events, it had been three weeks since we'd been in the car at the same time. So I didn't offer. I was looking forward to the four of us being together again, even for the short trip home.
We climbed into our 2003 Toyota van with Andy at the wheel, me beside him, Jen behind Andy, and Josh behind me. Some of our company would probably beat us home, but that was okay; they could talk in the yard for five minutes until we got there. We were expecting my parents, Andy's mom and dad, Andy's brother, John, and his two kids, Brandon and his family, and our friends Robb and Paula Egel. Ever the thoughtful husband, Andy suggested we swing by KFC for fried chicken instead of trying to whip up something so late at the house. The kids added their "yes" votes from the backseat, and I wasn't going to turn down a trouble-free party dinner with no dishes afterward.
Recently on First Chapters
Have something to say about this article? Leave your comment via Facebook below!
advertise with us
Example: "Gen 1:1" "John 3" "Moses" "trust"
Advanced Search
Listen to Your Favorite Pastors