Not a Fan
Kyle Idleman, Author
Wednesday, June 01, 2011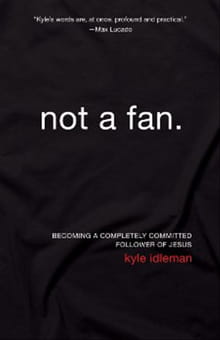 I tell you the truth, you are looking for me, not because you saw miraculous signs but because you ate the loaves and had your fill.
Jesus knows that these people are not going to all the trouble and sacrifice because they are following him, but because they want some free food. Was it Jesus they wanted, or were they only interested in what he could do for them? In verse 35 Jesus offers himself, but the question is, Would that be enough?
Then Jesus declared, "I am the bread of life. He who comes to me will never go hungry, and he who believes in me will never be thirsty." Jesus says, I am the bread of life. Suddenly Jesus is the only thing on the menu. The crowd has to decide if he will satisfy or if they are hungry for something more. Here's what we read at the end of the chapter:
From this time many of his disciples turned back and no longer followed him (John 6:66).
Many of the fans turn to go home. I was struck by the fact that Jesus doesn't chase after them. He doesn't soften his message to make it more appealing. He doesn't send the disciples chasing after them with a creative handout inviting them to come back for a "build your own sundae" ice cream social. He seems okay with the fact that his popularity has plummeted.
As I sat in the sanctuary surrounded by thousands of empty seats, here's what became clear to me: it wasn't the size of the crowd Jesus cared about; it was their level of commitment.
I put the Bible back in the chair in front of me.
I cried.
God, I am sorry.
Almost as soon as I said it to him, I knew it needed to go further. A few days later on Easter Sunday, a crowd of thousands gathered and I began my sermon with a choked up apology. I told the crowd that I was wrong for being too concerned with what they would think and how many of them would come back. I think over the years my intentions were good; I wanted to make Jesus look as attractive as possible so that people would come to find eternal life in him. I was offering the people Jesus, but I was handing out a lot of free bread. In the process I cheapened the gospel.
Imagine it this way. Imagine that my oldest daughter turns twenty-five. She isn't married but she really wants to be.* I decide I'm going to help make that happen. So, imagine I take out an ad in the newspaper, put up a billboard sign, and make up T-shirts begging someone to choose her. I even offer some attractive gifts as incentives. Doesn't that cheapen who she is? Wouldn't that make it seem that whoever came to her would be doing her a favor? I would never do that. I would set the standard high. I would do background checks and lie detector tests. There would be lengthy applications that must be filled out in triplicate. References would be checked and hidden cameras installed. If you want to have a relationship with her, you better be prepared to give her the best of everything you have. I don't want to just hear you say that you love her; I want to know that you are committed to her. I want to know that you would give your life for her.
Too often in my preaching I have tried to talk people into following Jesus. I wanted to make following him as appealing, comfortable, and convenient as possible. And I want to say that I am sorry. I know it's strange to start off a book with an apology, but I want you to know that the journey I'm inviting you on is one that I've been traveling. It's a journey I continue to be on, and I should tell you it hasn't been easy. It was more comfortable to be a part of the crowd.
I know typically you put something in the introduction that makes people want to read the book. You have a celebrity* write it, or you have someone else write it so that person can tell all the readers how great the writer is. At the very least the author should write something in the introduction of a book that makes people want to read it. I'm not sure if I've done that . . . probably not. My guess is an apology from a man who got it wrong for a long time doesn't exactly inspire confidence. But I just want to be clear that this book is not just information on a page or a pastor's commentary on the Scriptures. This book is written by one of those in the crowd in John 6 who thought Jesus was great but was really in it for the free meals.
Recently on First Chapters
Have something to say about this article? Leave your comment via Facebook below!
advertise with us
Example: "Gen 1:1" "John 3" "Moses" "trust"
Advanced Search
Listen to Your Favorite Pastors