Tea with Hezbollah
Ted Dekker and Carl Medearis, Authors
Thursday, February 18, 2010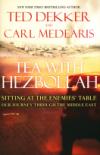 The trip was off. I felt jovial! I was liberated from the fear that had nagged at me for many months as Carl slowly but surely put together this unprecedented trip.
Honestly, I never really thought he'd pull it off. Without fail, my mention of the trip to publishers or people of influence would garner the same coy smile. "Yeah, good luck with that." Who'd ever heard of such a thing? I mean, it's one thing to sit in a coffee shop in downtown Denver and dream about the ultimate trip to the most dangerous parts of the world, but the list of people whom Carl wanted to meet amounted to a delusional dream. Or a nightmare, depending on your perspective.
Did I say delusional? Add impossible to that. No one from the State Department could get the meetings Carl was going after. In fact, no one but Carl Medearis could land them, but more on that later.
As the months stretched into a year and the appointments began falling into place, I tried to back out a dozen times. Finally, two days before we were scheduled to leave, God Himself had reached down and mercifully rescued me from almost certain death. Not to mention an overpriced luggage purchase.
Being the puppy in tow of the great mastiff, I put on a brave face. "So, what do we do?" I asked.
"Well, we wait and see."
"Wait for what?"
"For things on the ground to change. Could all be fine tomorrow."
I'm here to tell you that nothing was fine tomorrow. I'm still not sure what—besides foolishness—put me on a flight from Denver to Cairo two days later.
And I'm even less sure of what absurd notions could possibly have persuaded me to board the first flight into Beirut four days later, following a week's upheaval that had sent souls far braver than me either running for cover or to their graves.
Yet here I was, cranking open the vent over my head to dry the ribbons of sweat seeping from my forehead, never mind that the cabin was already freezing. Samir Kreidie, the wealthy Muslim businessman in Saudi Arabia who'd helped to set up the trip, was returning to Beirut with us. Indeed, without his help, the trip would have been impossible—many of the muftis and clerics we would meet agreed to do so only because of his unshakable reputation as a powerhouse of reconciliation.
But Samir himself, only days earlier, had insisted the trip was now far too dangerous.
Such is the Middle Eastern mind-set. I suppose when you spend your whole life dodging bullets, the threat of a sniper on the corner doesn't keep you housebound for long. Better to run rather than walk, naturally, but you can't let dissenters with machine guns make you a prisoner in your own house.
On the bright side, Carl, Samir, and I had virtually the whole jet to ourselves. It turns out that the owners of Middle East Airlines know Samir well. We'd canceled our flights from Saudi Arabia to Beirut a few days earlier on my urging, during a time when all three of us possessed our full share of good sense. Rebooking would normally have been impossible at a time like this, but a single call from Samir and we were on. Such is the power of a man who spends the day talking to heads of state on his flip phone.
And business class to boot. Wonderful. The staff was excellent, as was the food. It was certainly better than any service I'd experienced in the United States. The stewardesses all knew Samir—no surprise there.
But the essential facts remained: One, Beirut was a city besieged by the Hezbollah. Two, we were on the first flight in after a week's closure. Three, according to reports, anywhere from dozens to hundreds had been killed in fighting around the city, and the Lebanese army controlled the streets only by lining them with tanks and machine-gun placements.
Four . . . I mean, please. Anything could happen. Anything.
Sometimes I feel like hugging Carl and slapping him on the back. The kind of guy who would befriend a starving grizzly bear, he is loved by all, and I do mean all. Other times I feel more like locking him in the bathroom and making a run for it. Both his love and his bravery are greater than mine.
Recently on First Chapters
Have something to say about this article? Leave your comment via Facebook below!
advertise with us
Example: "Gen 1:1" "John 3" "Moses" "trust"
Advanced Search
Listen to Your Favorite Pastors