The Ambition
Lee Strobel, Author
Monday, July 11, 2011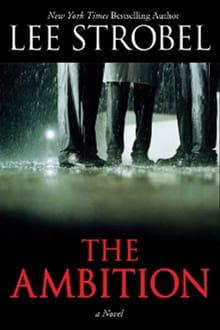 The place was virtually empty. Jerry glanced at his watch — a little after three — and let out a low whistle. He hustled together a J&B Scotch with a splash of water and brought it over, slipping into the seat across from his long-time customer.
"Had lunch?" Jerry asked. "Want a burger?"
Strider didn't hear the questions. "It's unbelievable. Unbelievable!" he said, gulping his drink.
For seventeen years, Jerry had run a hole-in-the-wall tavern strategically located between the offices of the Chicago Tribune and the Chicago Examiner. During that time he had learned more about newspapers than most ivory tower journalism professors would ever know.
For him, the clues on this particular day were obvious: it was mid-afternoon in the first week of April and the chief investigative reporter of the city's second largest paper looked like he should be on suicide watch.
"So," said Jerry. "The Pulitzers were announced."
Strider downed the rest of his drink and removed his wire-rim glasses, tossing them on the table and massaging the bridge of his nose, his eyes shut.
"We worked eighteen months on that series," he said, more to himself than to Jerry. "We proved that lousy forensic work by the Chicago police lab had tainted dozens of criminal cases. Scores of cases. Two guys were released from Death row. Seven cops resigned; a grand jury is investigating. We may nail the chief yet. We won every award in the state. What more do we have to do?"
Jerry knew more drinks were in order. He stepped behind the bar while Strider kept talking. "And who do they give it to? The Miami Journal for a series on nursing homes. C'mon — nursing homes? Who even cares, except in Florida?"
Jerry shoved another drink into Strider's hand and plopped down a bowl of pretzels.
"You remember Shelly Wilson," Strider continued. "The redhead? Nice legs?"
"Oh, yeah, I had to pry the two of you apart a couple of times."
Strider shot him a sour look. "Don't tell me she won it."
"She was an intern when I hired her," Strider said. "I taught her everything — undercover work, public records, Internet research, milking informants. Maybe I taught her too well — she dumped me and ran to the Journal when they offered her more money and her own team. And now she screws me again." Jerry shook his head. He felt terrible for his friend. For as long as he had known him, all of Strider's focus had been on winning a Pulitzer — although Strider had never come right out and admitted it.
They both knew it: a Pulitzer turbo-charges a career like nothing else. It means a shot at the New York Times or Washington Post. It becomes a proud label for the rest of a reporter's life: "In his commencement address at Harvard University, Pulitzer Prize-winning journalist Garry Strider said yesterday that blah, blah, blah . . ." It would have been in the lead of his obit someday.
Most importantly, bagging the Pulitzer would have gotten John Redmond off Strider's back. Hard-driving and relentlessly arrogant (and, yes, recipient of a Pulitzer back in 1991), Redmond demanded big results from Strider's three-person investigative unit. His willingness to let Strider spend month after month pursuing a single series of articles was predicated on him bringing home a prestigious Pulitzer for the paper.
Now that he had failed — again — to win the big one, it was unclear what the future would hold. Would he get one more chance? Newspapers were cutting investigative reporters around the country. When tough economic times hit, they were often the first to go.
Recently on First Chapters
Have something to say about this article? Leave your comment via Facebook below!
advertise with us
Example: "Gen 1:1" "John 3" "Moses" "trust"
Advanced Search
Listen to Your Favorite Pastors