The Ambition
Lee Strobel, Author
Monday, July 11, 2011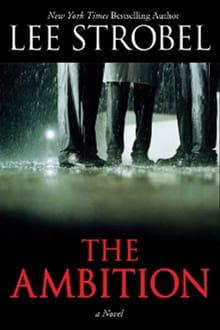 "You told Gina yet?"
Strider slipped on his wire-rims. "Yeah, I called her. She listened; she sympathized. What else could she do? Then she said she had some news of her own." He polished off his drink, holding out the glass for another refill. "Unbelievable."
On the fourth floor of the Criminal Courts Building, Tom O'Sullivan walked up to the door of Chief Judge Reese McKelvie's courtroom. He grabbed the brass handle — then paused, shutting his eyes tightly. How did he get to this point? How did everything go so terribly wrong?
He was such an unlikely candidate for something like this. For much of his life, he had lived a golden existence — never having to work hard, never having to worry about his future. In Chicago, the O'Sullivan name had been the key to opening any door that was worth going through.
The O'Sullivan legacy went back to his great-grandfather, Ryan, who emigrated from Ireland in 1875 and bullied his way into a job as an organizer for the new American Federation of Labor.
Ryan's eldest son, Big Tom O'Sullivan, was the first to make a mark on Illinois politics. Gregarious and brash, conniving and charismatic, Big Tom scratched his way through law school and then gained notoriety by successfully defending six Irish teenagers who had been framed for a killing committed by an off-duty cop. When the alderman of his heavily Irish Ward died of cancer, Big Tom rode a wave of popularity into office.
Over time, he systematically consolidated power. The street smarts he had garnered at the knee of his father, mixed with his larger-than-life personality, made him an irresistible leader. His lock on Ward politics continued until his death in 1957.
His son — Tom's father — blended seamlessly into the Ward's political machine during the last several years of Big Tom's life, but his ambitions were loftier. The year after his father's death, Tommy Junior was elected to the Illinois General Assembly.
Though not as affable or loquacious as his father, he was equally adept at manipulating the levers of power. After three terms, he easily advanced to the state Senate, where he gained control of key committees dealing with appropriations and transportation.
Growing up an O'Sullivan in Chicago meant every door flew open for Tommy Junior's namesake son, his only male heir. Tom had learned quickly that mediocrity was more than sufficient in a world that revolved around his well-connected dad.
He partied through college and used his father's clout to get into law school. But then everything collapsed overnight when the Examiner disclosed that Tom's father had been caught sponsoring a "fetcher bill" — a proposed law whose only real purpose was to negatively impact a particular industry so that it would "fetch" a payoff in return for killing the legislation.
Headlines came fast and furious as allegations multiplied. Contractors told the grand jury that Tommy Junior had steered highway construction projects to friends in return for a piece of the action. It was classic Illinois "pay to play" corruption.
Before long, the investigation, led by Debra Wyatt, a bulldog federal prosecutor intent on making a name for herself, spread like cancer. The senator never discussed the investigation with Tom or his sisters. The closest he came was one morning when he walked into the kitchen and found them reading the Examiner. "Lies," he muttered without looking up. "Wyatt wants to be governor — that's what this is about."
Then came the seventeen-count indictment: mail fraud, tax evasion, extortion, racketeering. Tommy Junior's health collapsed. And that's when prosecutors turned up the heat. Come into the grand jury, Wyatt whispered in his ear, and implicate every friend. We'll cut you a deal.
Recently on First Chapters
Have something to say about this article? Leave your comment via Facebook below!
advertise with us
Example: "Gen 1:1" "John 3" "Moses" "trust"
Advanced Search
Listen to Your Favorite Pastors