The Ambition
Lee Strobel, Author
Monday, July 11, 2011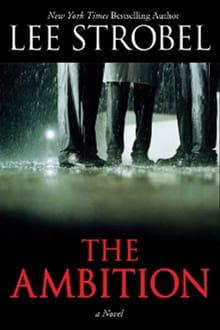 Not a soul expected him to turn state's evidence — until a story by Garry Strider, based on a leak from prosecutors, landed on the front page of the Examiner, alleging that the senator had agreed to tell everything.
The leak was a lie, designed to chase away Tommy Junior's friends so he'd feel isolated and more likely to testify against his colleagues. He could've shouted from the top of the John Hancock Center that he wasn't cooperating with the authorities and nobody would have believed him. His fate as the biggest pariah in state politics was sealed. But within seventy-two hours of the story hitting the streets, Thomas Ryan O'Sullivan Jr. was stricken by a massive heart attack. Tom still blamed Debra Wyatt and the Examiner for hounding his father into an early grave.
Tom barely made it through law school and still wasn't sure how he'd done it. The O'Sullivan name became political poison. He passed the bar on his first attempt, but then nobody would hire him. He ended up opening his own office and taking run-of-the-mill criminal cases — anything to pay the bills.
Only one thing still reminded him that he was alive — gambling. The thrill of placing the bet, the rush of eternal optimism that this one was it — this horse, this hand, this roll of the dice. Only he was losing more and more, the price steeper as his financial hole deepened. Now, as he swung open the Chief Judge's heavy oak door, he was taking the biggest gamble of his life. And the odds, he feared, were stacked against him.
Jerry's coffee did a pretty good job of clearing the buzz in Garry Strider's head. The walk through the cool air to the front of his DePaul area townhouse helped too. But opening the door and seeing the living room couch made into a bed — well, that's what finally jolted him back to full mental acuity.
"Uh, Gina?" he called, closing the door behind him.
She emerged from their bedroom, carrying a pillow and a newly laundered pillowcase. Her fresh-faced beauty still startled him at times — how did he get so lucky? Strider braced himself, figuring she was going to lambaste him for his drinking binge. Instead, she smiled and greeted him with a quick kiss on the cheek.
"Hi, Strider," she said — everyone called him that. "I'm really sorry about the Pulitzer thing. Honestly, they're idiots. You okay?"
"Total disaster," he said. "Someone spending the night?"
Gina clad the pillow and tossed it onto the couch. "Honey, no. Listen, we should talk. You eaten? There's lasagna I can heat up."
"What's with the couch, then?"
"You want a sandwich?"
"I want to know about the couch. What's going on?"
Gina sighed and eased her slender form onto the sofa's edge.
"Look, sit," she said. Strider lowered himself into a recliner. She thought for a moment, then gestured toward the makeshift bed.
"This is for me."
Before Strider could interrupt, she added: "Now, don't get all excited. This isn't the end of the world. I just think, well, that we should cool it a bit — at least physically. Not forever — just until . . . well, if we get married."
For Strider, this did not compute. "What is this — the 1950's?
We've lived together for nearly a year! Suddenly, you don't want to sleep together? If this is pressure to get married — "
"No, it's not that. I mean, yeah, you know I'd like to get married. But I'm realizing that we shouldn't continue to be, um, intimate until it's, like, y'know — official. It's just . . . what I feel."
Recently on First Chapters
Have something to say about this article? Leave your comment via Facebook below!
advertise with us
Example: "Gen 1:1" "John 3" "Moses" "trust"
Advanced Search
Listen to Your Favorite Pastors