The Ambition
Lee Strobel, Author
Monday, July 11, 2011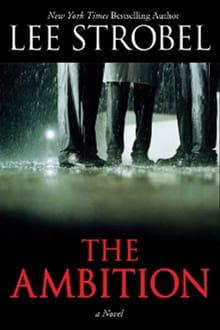 They laughed easily, the pauses in their conversation pregnant rather than awkward. The difference in their ages — she was twentynine; he was forty-one — seemed to evaporate.
Gina had been attracted to his slightly disheveled appearance — his corduroy sports coat was a little rumpled, his burgundy tie a bit outdated, his blue jeans shapeless, his wire rims unfashionable. But his stories about his adventures as a reporter — well, she had to admit they were pretty exciting. So when he asked her to dinner for that evening, she didn't hesitate — and from there, the relationship grew. After the succession of cynical colleagues Strider had dated — users like that conniving Shelly Wilson — he found Gina to be surprisingly different: honest and sincere and genuinely caring. She brought such vibrancy and optimism into his life — and, as it turned out, she was the only woman who could put a governor on his impulsiveness and outbursts of anger. If she were a little naïve because of the age difference, then so be it.
When Gina moved into his townhouse about a year after they met, she became an anchor for his life. Over time she transformed his chaotic bachelor lair into a cozy, welcoming refuge from the oppressive stress of the Examiner newsroom. For Strider, Gina was much more than just a warm and generous and attentive lover; she really was the best friend he'd ever had.
No, he thought to himself as they stood facing each other in his living room, he didn't want to lose her. He knew that with as much certainty as he knew anything.
"I'll tell you what," he said finally. "I'll sleep on the couch." Gina smiled, pulling his face toward hers and giving him an enthusiastic kiss. "Honey, this is the right thing. You'll see." Strider smiled back — weakly — and turned to walk toward the kitchen. "I'll take that lasagna," he said. "We can discuss this more in the morning."
The whole situation left Strider confused. Gina had grown up in a large Italian family. Catholicism was part of the package. She always seemed so casual, comfortable even, whenever anything about God or religion came up — no big deal. He, on the other hand, remained indifferent to the whole notion of personal faith, deterred by the hypocrisy he read about in the paper whenever the latest scandal broke around some wayward church leader. But their religious beliefs had never gotten in the way of their relationship.
Why this all of a sudden? What educated, thinking person would adhere to these archaic beliefs in the 21st century? What else was she being force-fed at that sprawling, ultra-modern cathedral in suburban Diamond Point?
Strider had seen Pastor Eric Snow, founder of Diamond Point Fellowship, interviewed on national media several times — he was one of the most prominent evangelical leaders in the country, glib and self-assured, his hair combed just a little too perfectly.
And he continued to get more and more ink lately as he ventured out of the pulpit and increasingly into the public square. President George W. Bush had sought his counsel on a regular basis. He had successfully campaigned for a few select ballot initiatives pushed by the governor, and he gained statewide acclaim as something of an economic whiz when he co-chaired a task force on urban transportation issues.
His congregation had a reputation for being upscale, which made sense based on how much the guy had made in the dot-com world before shifting focus to ministry. His church was known for running with the clock-like efficiency of a high-tech Japanese factory — more like a NASDAQ corporation than a ministry.
Strider suddenly smiled to himself. There was one other thing that he knew as well: some twenty years earlier, the Charlotte Observer won the Pulitzer Prize for exposing the misuse of funds at evangelist Jim Bakker's television ministry.
A church cannot be as big and influential as Diamond Point, used Strider, and not harbor some ugly secrets. Immorality? Manipulation? Fraud? Abuse of its tax-exempt status? Hypocritical pastors cashing in on the gullible flock?
He was looking for a new investigative project anyway, something Pulitzer-worthy. As painful as this thing with Gina was, it couldn't be coming at a better time.
ZONDERVAN
The Ambition
Copyright © 2011 by Lee Strobel
This title is also available as a Zondervan ebook. Visit www.zondervan.com/ebooks.
This title is also available in a Zondervan audio edition. Visit www.zondervan.fm.
Requests for information should be addressed to:
Zondervan, Grand Rapids, Michigan 49530

Recently on First Chapters
Have something to say about this article? Leave your comment via Facebook below!
advertise with us
Example: "Gen 1:1" "John 3" "Moses" "trust"
Advanced Search
Listen to Your Favorite Pastors