The Color of Rain
Michael Spehn & Gina Spehn, Authors
Monday, November 28, 2011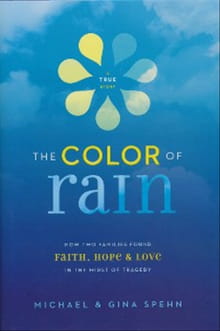 EDITOR'S NOTE: The following is an excerpt from The Color of Rain by Michael Spehn and Gina Spehn (Zondervan).
CHAPTER 1
the fall
gina
The morning of my thirty-second birthday, I was already looking forward to dinner with my parents. Dad and I shared the same birthday and Mom was making our favorite, linguini with traditional meat sauce and meatballs, to celebrate. With a name like Antoinette Valenti, you know her sauce is ridiculously good. I've yet to meet a person, regardless of how many vowels they have in their name, who can make a more tender meatball than my mother.
Bright sunlight bathed the kitchen in warmth. Two-year-old Drew had just finished eating oatmeal, and Sam was sitting in his high chair launching toys in between bites of Gerber baby cereal when the phone rang. My best friend, Colleen Schomaker, was calling with a solo performance of "Happy Birthday." She sang at hyperspeed, so as not to actually sing, and then reminded me that I am still older than her. We said good-bye with a plan to meet for lunch.
As I hung up, the television caught my eye. Smoke was billowing from one of the World Trade Center towers in New York City. I leaned my elbows on the counter to watch on my tiny black-and-white kitchen television and called Colleen back.
"Are you watching this?"
"Yeah, I know. Unbelievable."
We mulled it over for a few minutes and hung up again. By now, I had turned on the television in the family room. Sam was still in his high chair, happily being entertained by Drew as I watched a passenger jet explode into the second tower. My body recoiled with every replay of the plane entering the building. I sat on the coffee table in stunned silence and began to feel nauseated. My soul ached at the sight of incomprehensible suffering. With the rest of the world, I was riveted to my television on this otherwise gorgeous September day, helplessly watching America wounded and bleeding.
It took my husband, Matt, several hours to return home from his downtown office at the local NBC television station in Detroit. When I heard the garage door go up, I ran to meet him. We held each other tightly, still in a state of disbelief. My parents had already arrived. Time was standing still as we came together to watch the horror unfold. Around five o'clock I walked outside to clear my head. The late afternoon sun was blinding. I felt like I had been in a tunnel all day. My body ached from tension. It was surreal, and it wasn't even happening in our state. It was, however, happening in our safe country, in a city we had visited many times, and in a place where people we knew and loved were living. It was happening to people just like us. It was happening to us.
Dinner was quieter than usual, although the kids helped keep things light. The world may have paused, but Drew still had spaghetti sauce on his face, and Sam was still throwing things from his high chair. There wasn't much conversation aside from expressions of deep sadness, gratitude, and a strong sense of unity with our fellow Americans.
I took an hour tucking the kids into bed that night, snuggling, reading, and saying prayers. What kind of world had I brought them into? I walked downstairs and collapsed into Matt's arms. The television was muted and we sat quietly watching the images on the screen.
"I have a present for you," Matt said.
"For what?" I asked and then remembered it was my birthday. "I don't feel much like celebrating. How about if I open it tomorrow?"
Recently on First Chapters
Have something to say about this article? Leave your comment via Facebook below!
advertise with us
Example: "Gen 1:1" "John 3" "Moses" "trust"
Advanced Search
Listen to Your Favorite Pastors