The Color of Rain
Michael Spehn & Gina Spehn, Authors
Monday, November 28, 2011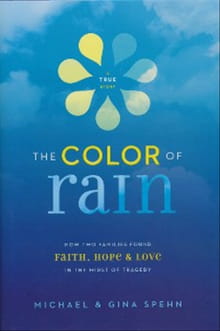 "Okay, but you have to read this tonight." He handed me a letter.
9/11/01
Gina:
Especially today, with the enormity of current events, I want to convey to you again, how much you mean to me and how proud I am to be your husband. The hard work that you are engaged in right now is exhausting, invisible and largely thankless in the short term.
But honey, please know that buried at the core of this tedium is the most noble and important work in the world — God's work; the fruits of which you and I will be lucky enough to enjoy as we grow old together. Watching these little guys grow into men is a privilege that I am proud to share with you, and the perfect fulfillment of our marriage bonds.
You are a great mom.
You are a great wife.
You are my best friend.
You are very pretty.
Happy Birthday.
 — Matt
Matt's generosity restored my hope. He made me feel safe and loved and purposeful. In his own adorable way, he even made me feel beautiful, which every mother of young children knows is no small task. At a time in our lives when careers and kids were creating loose threads in our marriage, and on the worst day in our nation's recent history, Matt gave me a renewed perspective about our life together and our future. His letter was like a stitch in the mending process. It was the best birthday present I'd ever been given.
A few months after 9/11, we celebrated our tenth anniversary in California. We planned the trip several months prior to our actual October anniversary, mostly to accommodate schedules. We rented a convertible Porsche Boxster in San Francisco and made the leisurely drive south to Big Sur. Matt was in his glory. Evidence of God surrounded us. The Sierras to our left, crashing surf to our right, and a little black sports car beneath us. Heaven. We looped around the Seventeen-Mile Drive and took in all the sights. The Lone Cypress Tree, tall Spyglass palms, and sea otters serving themselves a dinner of abalone on the rocks as they languished in the Pacific. We twisted and turned a bit farther south on Highway One until we arrived at the Ventana Inn and Spa, a quiet, romantic resort nestled in the cliffs at Big Sur. Pulling into the resort we noticed smiling people meandering around in white robes. Before the bell captain could open the car door, Matt leaned into me and whispered, "Resort? Or insane asylum?"
"Either way, we'll fit in," I replied with a laugh.
Ventana was quite a contrast from our everyday world. It was an extremely quiet, romantic escape. There was a bit of culture shock, but it didn't take long to adapt. Fifteen minutes after we mocked the crazies in the white robes, we were donning our own monogrammed terries with matching white flip-flops, sipping a delightful Napa Cabernet on our leisurely stroll to the Japanese hot baths. We giggled like kids who were getting away with something. We had only two days to luxuriate, so we made the most of them, eating extraordinary cuisine and taking deep breaths of the night-blooming jasmine.
After dinner we sat on the terrace of our bungalow overlooking the tranquil mountains. I rested my head back and felt the tension in my body melt away. When I opened my eyes, there was an open jewelry box with a beautiful pair of diamond earrings sitting on top of a Ventana notepad with a handwritten note:
Here's my big idea. When the time comes, we give one to Drew and one to Sam as "down payments" on engagement rings. Then, we go get you two giant rocks! I love you. — M
I hugged him around his neck and we kissed. He got it right. The earrings were perfect, but most of all, I loved his big idea. He considered five people in giving this gift. It was for me, our boys, and their future wives. His thoughtfulness would touch people he didn't even know.
Recently on First Chapters
Have something to say about this article? Leave your comment via Facebook below!
advertise with us
Example: "Gen 1:1" "John 3" "Moses" "trust"
Advanced Search
Listen to Your Favorite Pastors