The Color of Rain
Michael Spehn & Gina Spehn, Authors
Monday, November 28, 2011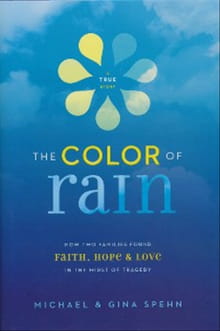 "Try 'em on," he said, smiling. He knew he had me. Matt had been buying me jewelry for years, but much of it sat idle in the jewelry box. I had never been one to wear much jewelry, mostly because I was hyper-aware of the fact that I had it on, and I tended to fidget with it. My discomfort, however, did not stop my persistent salesman husband from buying it. Now, after ten years, he had found the perfect gift, elegant and understated, with the perfect message.
"Thank you," I whispered. "I can't wait until our boys can understand this about you."
Matt hit play on the CD player on our nightstand, and we listened to a complimentary CD titled Going to California. The CD was an acoustic guitar tribute to Led Zeppelin. I liked my rock-and-roll, but this mellow CD worked with the robes-and-slippers mood. It became the soundtrack for a perfect weekend getaway.
Back home, the week of our actual anniversary in early October, Matt and I were not feeling pressured to buy gifts or plan an elaborate night out. Great memories of our California trip lingered, but we were glad to be home in Michigan this time of year. The autumn chill was beginning to creep back into the air, which meant sweatshirt weather, football games, and spicy chili. Everything smells different when the leaves begin to turn. Their yearly morph releases a burnt perfume that sweetens the air.
The vibrant colors and crisp temperatures make me feel like I could run a thousand miles, although after the first two, I'd rethink that idea. Autumn arouses all of the senses like no other season, perhaps because we can feel the beginning of the end, nature's grand finale.
Matt was upstairs showering and Sammy took his morning nap while I molded Play-Doh with Drew. I took notice of the leaves that hung just outside the window. The chartreuse green was giving way to hints of vibrant red, orange, and yellow.
"Gina!" Matt shouted to me from our bedroom. I walked to the bottom of the stairs to see him wrapped in a towel, dripping wet.
"Feel this," he said as he pushed his finger into his thigh. At first I thought he was being funny but quickly realized that his tone was more serious.
"What is it?" I asked, rushing up the stairs.
"I don't know. It feels like a marble in my leg, like a tiny tumor."
I stopped moving and glanced up at him with a confused look.
"A tumor? Who says that?" I said half sarcastically. That thought lingered in the air a moment until I realized, a Kell says that. While the average person does not jump to the conclusion that it's a "tumor" before considering every other possibility, Matt's family, given the genetic history on his dad's side, tended to assume the worst. We continued feeling around his thigh. The marble was very deep in the muscle. Matt and I agreed that he would call his dad's oncologist.
A few days later, on the day of our tenth anniversary, I was in our bedroom and saw our acoustic Led Zeppelin CD from Ventana. I realized that the timing of our trip had been less about logistics and more about a divine plan. As Matt lay in our bed recovering from surgery to remove a tumor from his leg, I pressed play. The last two songs on the CD were "Babe, I'm Gonna Leave You" and "Stairway to Heaven."
Autumn had arrived.

ZONDERVAN
The Color of Rain
Copyright © 2011 by Michael Spehn and Gina Spehn
This title is also available as a Zondervan ebook. Visit www. Zondervan.com/ebooks.
This title is also available in a Zondervan audio edition. Visit www.zondervan.fm.
Request for information should be addressed to:
Zondervan, Grand Rapids, Michigan 49530

All rights reserved. No part of this publication may be reproduced, stored in a retrieval system, or transmitted in any form or by any means—electronic, mechanical, photocopy, recording, or any other—except for brief quotations in printed reviews, without the prior permission of the publisher.
Recently on First Chapters
Have something to say about this article? Leave your comment via Facebook below!
advertise with us
Example: "Gen 1:1" "John 3" "Moses" "trust"
Advanced Search
Listen to Your Favorite Pastors