The First Gardener
Denise Hildreth Jones, Author
Wednesday, August 03, 2011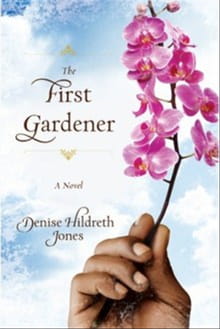 Restored by the former first lady in a massive renovation project, the mansion displayed all the beauty that a governor's residence should. But there was something about children in a home. They brought fingerprints to the artwork and syrup-covered hands to the marble side tables. They brought cartwheels to the foyer and a slight irreverence to what could be an often-stuffy environment. Formal dinners could be interrupted with bedtime stories, and hallways lined with pictures of former governors could turn into dance studios for little ballerinas. Best of all, Maddie and her friends brought a contagious laughter that the entire staff loved.
More footsteps pounded, and a camouflage streak left the smell of sweaty little boy in its wake. "Hey, Oliver," Mackenzie said as their seven-year-old next-door neighbor ran past her on the stairs. She glanced at her watch. "We've only been home a full five minutes."
"I know. I was watching ya from my driveway. Headed up to see Maddie—okay, Mrs. London?" The boy's disheveled curls bounced on his head as he took the steps two by two.
Mackenzie laughed. "Have at it, buddy." The fact that he had just entered the governor's mansion without so much as knocking was lost on Oliver. But Mackenzie didn't care. She liked having him around.
Oliver and Maddie had become bosom buddies last summer when his family moved into Minnie Pearl's old house next door. His mother, Lacy, had tried to keep him away, but Mackenzie had assured her that Maddie loved him. And he had pretty much become as permanent a fixture around here as Eugenia. The security and house staff knew to let him come and go. Maddie adored him and he her. And Gray declared that marriage was in their future.
Mackenzie reached the top of the steps and walked into the family quarters just as Maddie and Oliver rounded the corner. "Mommy! Mommy!" Maddie said. "Oliver has a new French word."
Oliver's family had lived in France for two years, and he did know a little French, but for the most part he simply spoke words with a French accent. But to Maddie, who was American and Southern through and through, he might as well be a French interpreter.
"Oh, you do?" Mackenzie said. "What is your new word?"
Maddie chimed in, "He can say lightbulb."
"Oh my." Mackenzie tried not to smile. "Go ahead, Oliver. Let me hear it."
He shook his head as if all of it was silly, but his expression gave his delight away. He squared his shoulders like a French gentleman. "Leetboolb."
Mackenzie nodded, her lips pressed firmly together to keep from cracking up. "That is wonderful, Oliver. Keep teaching those to Maddie, and before you know it, she'll be speaking French too."
The two smiled. Maddie threw her hand up, yelled "Bye, Mommy," and the pounding footsteps resumed, this time headed to the backyard. Mackenzie walked to the palladium windows in the family quarters living room. The two flashes darted across thick grass and headed straight for the trampoline. Their energy could bust through brick and mortar.
Mackenzie smiled as she sank into the deep, plush sofa and picked up her pink- and white-striped folder from the glass top of an iron side table. Her assistant, Jessica, always prepared her weekly schedule on Sunday afternoons and left it here for her. She thumbed through her responsibilities for the coming week. Tomorrow she was slated to speak to state educators at a luncheon meeting about volunteerism in elementary schools.
It was a subject dear to Mackenzie's heart, a cherished part of her heritage as a native of the Volunteer State. The term went back to the War of 1812, when General Andrew Jackson mustered thousands of citizen volunteers to fight the British in the South. It had been reinforced during the Mexican-American War, when <span class=Emphasis>then Tennessee governor Aaron Brown requested 2,800 men and 30,000 showed up.</span> And it still applied in Tennessee today, at least as far as Mackenzie was concerned.
Recently on First Chapters
Have something to say about this article? Leave your comment via Facebook below!
advertise with us
Example: "Gen 1:1" "John 3" "Moses" "trust"
Advanced Search
Listen to Your Favorite Pastors