The First Gardener
Denise Hildreth Jones, Author
Wednesday, August 03, 2011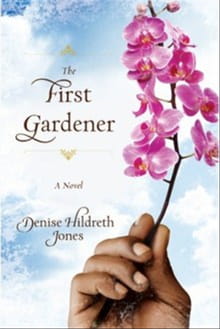 Convinced that the initiative of volunteerism needed to begin early, she had helped devise an elementary school curriculum to help even the youngest see not only the importance of volunteerism but the endless opportunities as well. She was a firm believer that if you reminded people of what they were created for, they would rise up to meet the challenge—and the earlier it happened, the better.
Her own experience as a young volunteer had started over a bowl of fried okra, which Eugenia had set in front of her at a Sunday lunch. Mackenzie, who normally loved fried foods, had popped one of the cornmeal-encrusted balls in her mouth—and hated it. Hated it. That first complaint had resulted in a trip downtown to feed the homeless and hungry. "Next time you whine about okra that I picked from my own garden and fried with my own hands," Eugenia had told her, "you need to think about people who don't have food and would love some of your mama's okra."
That one experience didn't change Mackenzie's opinion of okra, but it did change her life in significant ways. Helping at the soup kitchen so touched her heart that she began to refuse food just so she could go again. Eugenia caught on after the third showdown, and they started volunteering regularly at the Nashville Rescue Mission.
Mackenzie had gone on to major in social work at the University of Tennessee and later worked as an advocate for children in crisis. Now she had the opportunity to help children themselves recognize the needs around them. That was one of the benefits of her role as first lady. She could be a mouthpiece for the issues most important to her.
Mackenzie scribbled down a reminder to review her notes before bedtime and checked to see what else her calendar held. It was going to be a full week, especially with Maddie's first day of kindergarten and the big soiree on Wednesday night honoring the volunteers and heroes of a string of natural disasters that had hit the area the past few years.
It had all begun with the horrific flood a few years back—an unprecedented disaster for Tennessee. For the first two days in May, some areas of Tennessee had received a record-breaking nineteen inches of rain. There had been twenty-one deaths and more than 1.5 billion dollars in damages. The devastation included some of Nashville's most precious landmarks—the Grand Ole Opry, the Ryman Auditorium, and the Opryland Hotel and Convention Center. And because few outside the state even knew about the floods—they coincided with an oil spill in the Gulf of Mexico and an attempted car bombing in New York City—Nashvillians had mostly been left to fend for themselves.
But Tennesseans had done what Tennesseans do. They hadn't complained. They hadn't blamed. They'd just dug in their heels and served . . . each other.
Mackenzie had been right in the middle of those efforts—and similar efforts in the wake of a massive tornado in northwest Tennessee and an ice storm that crippled two-thirds of the state for a full week. Each time, she had recognized the spirit that made her state special.
That was the reason for Wednesday's dinner. Mackenzie was determined to honor those local heroes she had come in contact with day after day, those heroes the national media or People magazine would never interview. She had been involved in every detail of the celebration, and she couldn't wait for it to get here.
"What're you doing, babe?"
She looked up. Gray was in his running shorts and red Nike T-shirt. Sweat clung to his face and glistened as the light hit it. He paced around the room, trying to cool off.
"Seeing what the week holds. Good run?"
"Felt great." He leaned down and kissed her lightly on the lips.
She closed her folder and set it down. "Getting hungry?"
Recently on First Chapters
Have something to say about this article? Leave your comment via Facebook below!
advertise with us
Example: "Gen 1:1" "John 3" "Moses" "trust"
Advanced Search
Listen to Your Favorite Pastors