The Language of Blessing You Are Blessed
Joseph Cavanaugh III
Monday, February 25, 2013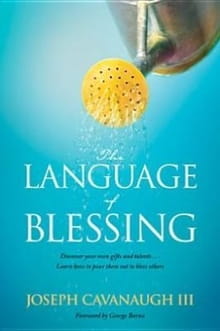 EDITOR'S NOTE: The following is an excerpt from The Language of Blessing by Joseph Cavanaugh III

Chapter 1: The Blessing
As a child, I loved visiting my maternal grandmother on her farm in western Iowa. Grandma's yard was bursting with vibrant flowers from early spring to late fall. She knew just how to cultivate a scene blooming with every color of the rainbow for each season. As a young child, I thought every yard should look that way.
However, the view from the house where I grew up was nothing like Grandma's. Our poor yard was a rather forlorn and neglected affair. My father didn't seem to care about it, other than occasionally dragging out a hose and sprinkler when our sparse grass began to turn brown in the summer's heat.
Two huge silver maple trees, one in our front yard and one in the back, provided a bit of shade. The only other plants were white spirea (bridal wreath) bushes, which grew along the front of our house. Every home on both sides of our block seemed to have those same bushes growing in the front yard. The spirea would bloom in May for a couple of weeks, and the arching cascades of pure white flowers with their golden centers did look beautiful. But then all too soon, the display would be over until the next May.
As if our yard were not plain enough, there was an ugly scar in the front of our lawn. The rut had been worn by the neighborhood kids and my siblings as they took a shortcut from the sidewalk to the walk that led up to our house. I am sure I sometimes took the same shortcut when I was in a hurry.
But by the time I was ten, I saw that ugly rut as an insult to our yard and our home, and I decided to take on a landscaping project. I wanted to do something about that rut and at the same time bring color and beauty to our home. My plan was to plant a closely spaced row of beautiful hybrid tea roses along our front walk. No one would think about cutting through the rosebushes, which have sharp, ­one­-​­inch-​­long thorns! As this vision of landscaping glory began to take form in my imagination, I could see this row of roses becoming the envy of the neighborhood.
I had learned from Grandma that I'd have to choose a hardy rose that would thrive in our climate. I did my research by reading a book on roses at our local plant nursery. One picture of a particular rose jumped out at me—the Peace rose. As the Peace rosebuds begin to bloom, they are a bright yellow, but when they are fully opened, the color mutes to a pinkish cream with a radiant yellow center. The rose is so beautiful that the Germans named it Gloria Dei, or "glory to God." In America, it was named the Peace rose, since Field Marshal Alan Brooke had refused the honor of having it named after him following the end of World War II. He said he would prefer Peace, a name that would be remembered far longer than his, and the name stuck. Since my dad served in WWII, I thought he would find that information fascinating.
As it turned out, potted Peace roses were too expensive for my limited budget. Fortunately, the helpful people at Earl May Nursery told me I could get a bare root plant that would be much cheaper. When I explained I did not yet have all the money, they were kind enough to hold five plants for me. They also explained that I would need peat moss, compost, mulch, and rose fertilizer. This was going to be much more expensive than I had hoped.
I dedicated the next month to doing any kind of odd job I could find in our neighborhood, like digging dandelions, mowing and raking yards, hauling trash, and clearing out brush. Once I had earned enough money to purchase one of the items, I would ride my bike the two miles to the nursery and then bring the purchase back to the house, where I'd hide it under our front porch.
Recently on First Chapters
Have something to say about this article? Leave your comment via Facebook below!
advertise with us
Example: "Gen 1:1" "John 3" "Moses" "trust"
Advanced Search
Listen to Your Favorite Pastors