The Language of Blessing You Are Blessed
Joseph Cavanaugh III
Monday, February 25, 2013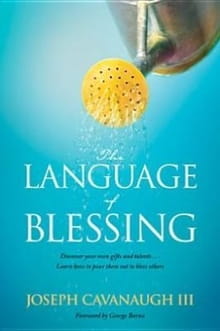 Because of his labored breathing, talking had become difficult for him. He would listen silently, his eyes full of deep sadness. When I finished, he would just look up and nod his head, usually saying nothing. I interpreted his silence and the nod as affirmation. One day, he suggested I invite my siblings to participate in New Life. That was the closest he ever came to telling me I had done something worthwhile.
I now know he wanted to affirm the ­God-​­given blessing in me, but he had no experience or language to express it. He had not received such a blessing from his father either. I believe his lifelong inability to affirm his children tormented him until his final moments.
No parent should have to experience what my father went through.
You Are Blessed
Today I have given you the choice between life and death, between blessings and curses. Now I call on heaven and earth to witness the choice you make. Oh, that you would choose life, so that you and your descendants might live! (Deuteronomy 30:19)
Your words bring forth life or death. That may sound melodramatic or overstated; I assure you it is not. What you say has the power to give life to dreams and ­callings—​­or to snuff them out before they have a chance to develop. 1.2
As Jesus said, "The thief comes only in order to steal and kill and destroy" (John 10:10, amp). One of the ways the thief (Satan) steals, kills, and destroys is through deceitful words. No wonder, then, that the tongue has the power of life and death.
Fortunately, God's desire for each one of us is life: "I came that they may have and enjoy life, and have it in abundance (to the full, till it overflows)" (John 10:10, amp). In fact, the Bible has a great deal to say about blessings; it mentions blessing or derivative terms over four hundred times! There are three Greek words in the New Testament related directly to the English word blessing:
Eulogeitos

is an adjective meaning "well spoken of; praised."

Eulogew

is a verb meaning "to speak well of; to praise; to call down God's gracious power."

Eulogia

is a noun meaning "praise; fine speaking."
Although these words are Greek, the original language of the New Testament, the concept of blessing is completely Hebrew in origin, starting in the first book of the Bible. In Genesis we read about God blessing Abram (whom He would soon rename Abraham):
The Lord had said to Abram, "Go from your country, your people and your father's household to the land I will show you.
"I will make you into a great nation,
and I will bless you;
I will make your name great,
and you will be a blessing.
I will bless those who bless you,
and whoever curses you I will curse;

and all peoples on earth
will be blessed through you."
Recently on First Chapters
Have something to say about this article? Leave your comment via Facebook below!
advertise with us
Example: "Gen 1:1" "John 3" "Moses" "trust"
Advanced Search
Listen to Your Favorite Pastors