The Language of Blessing You Are Blessed
Joseph Cavanaugh III
Monday, February 25, 2013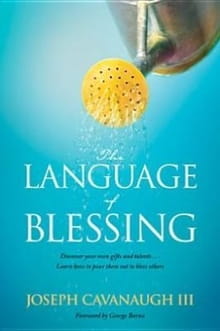 You are not an accident. Before He even created the world, God began to dream of you. The apostle Paul writes, "Even before he made the world, God loved us and chose us in Christ to be holy and without fault in his eyes. God decided in advance to adopt us into his own family by bringing us to himself through Jesus Christ" (Ephesians ­1­:4-​­5).
He envisioned a unique design for you and decided to invite you and your purpose into His eternal purposes. That purpose will not end with your physical death. After you've finished your life on planet Earth, you will stand before our Lord and Maker. If you've lived out your purpose, you can expect to hear these words: "Well done, my good and faithful servant" (Matthew 25:21).
Application Activity
I serve as a life coach to a number of individuals and couples. Life coaching is very different from sports coaching, voice coaching, and even executive or business coaching. In those areas, coaches are viewed as the experts in their fields and tell others what they are to do. In life coaching, I do little instructing; instead, I ask lots of questions. That's because I understand that each individual I coach is the world's leading "expert" on his or her unique design and calling. Through the right questions, I help draw out what is deep within each person into his or her conscious awareness. I then affirm and celebrate each person's unique design.
I have coached over one thousand highly gifted and talented individuals, and I have noticed that when we start working together, the vast majority have little or no sense of their life's mission. When I ask them about their "unique" purpose, many roll their eyes and ask, "Really, a unique purpose? You're serious? I'm supposed to have one?" You may feel the same way at this point. I understand. Many people find it extremely difficult to discover their distinctive purpose on their own. As you will learn in part 2, this can be challenging for many reasons. The good news, explained in part 3, is that there are many tools to help you discover it.
As you begin this book, let me assure you that the benefits of knowing your unique design and purpose are numerous. If the idea of finding your life purpose seems out of reach right now, I encourage you to work through the Application Activities at the end of each chapter. Writing down or discussing your answers to the questions will put you on the path to discovering the gifts and purpose God has placed within you. Knowing what you were put on earth to do will then positively affect your relationships, your work, your spirituality, your health, and every other area of your life.
1. Do you have a sense of your unique ­purpose—​­what you were born to do?
2. If you do have a sense of your distinctive purpose, how would you describe it? If you don't, what is your response to the assertion that you, like every other person, were designed with a ­God-​­given purpose in mind?
*This Article First Published 2/20/2013
Recently on First Chapters
Have something to say about this article? Leave your comment via Facebook below!
advertise with us
Example: "Gen 1:1" "John 3" "Moses" "trust"
Advanced Search
Listen to Your Favorite Pastors