The Shelter of God's Promises
Sheila Walsh, Author
Wednesday, December 08, 2010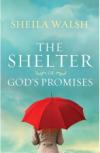 "Cursed are you above all the livestock
and all the wild animals!
You will crawl on your belly
and you will eat dust
all the days of your life.
And I will put enmity
between you and the woman,
and between your offspring and hers;
he will crush your head,
and you will strike his heel."

The promise was that the seed of Adam and Eve would crush Satan's head and destroy him for eternity. Satan would bruise Christ's heel, meaning there would be pain and suffering ahead for the Messiah. That seed is Christ Jesus. God's promise for you and me today is that there is a limit to the time that the enemy will be able to have free reign on this earth, and that even during that limited time and space, Christ Himself will walk with us.

Whenever I am faced with a difficult passage in my life or that of a friend, I remind myself again that we are travelers in this world, headed back to our true home with God. But we come upon detours in our journey. Each detour takes us from the garden to a cross on a hill, where Christ Himself paid the ultimate sacrifice so that we will be free. Even as Christ was placed in a grave carved into a cleft of rock, He went there as a fulfillment of God's promise to you and to me that death would be swallowed up in victory, for no grave could hold Him.

I can never forget that night I was in the Cairngorms, how I made my way in the dark into the cleft of the rock and found a place of shelter. We are each invited from the worst storms of our lives to find our safe hiding place in God. God provided shelter for Moses not in a moment of shining triumph but when his heart was broken by the faithlessness of those around him. When the people failed, God's glory caused Moses' face to shine as He reiterated His promises one more time. Our faithlessness does nothing to diminish God's faithfulness.

Whatever God says, we can stake our lives on, and Christ came to show us who our Father is. In Christ all the promises of God are fulfilled, for no matter how many promises God has made, they are "yes" in Him (2 Corinthians 1:20).

Isn't that beautiful? Isn't it so mysteriously complicated and yet so simple? Isn't that just like God to always come down to the most elemental way of things? In His creation, there is darkness and there is light. There is the beginning and an end, the heavens and earth, water and rock, body and blood, your broken heart and His.

Normally we doubt whether a promise maker will be a promise keeper when everything is completed. But the witness of the substitutionary atonement of Jesus is that God's most difficult promise has been kept. The Father is truly the only Promise Maker who is in earnest a Promise Keeper. A promise from God is a promise kept.

There are His promises and His unbreakable commitment to keep them.

There is Christ. There is yes.

The Shelter of God's Promises
© 2011 by Sheila Walsh

All rights reserved. No portion of this book may be reproduced, stored in a retrieval system, or transmitted in any form or by any means—electronic, mechanical, photocopy, recording, or any other—except for brief quotation in printed reviews, without the prior written permission of the publisher.

Published in Nashville, Tennessee. Thomas Nelson is a registered trademark of Thomas Nelson, Inc.
Recently on First Chapters
Have something to say about this article? Leave your comment via Facebook below!
advertise with us
Example: "Gen 1:1" "John 3" "Moses" "trust"
Advanced Search
Listen to Your Favorite Pastors