The Welcome Committee of Butternut Creek
Jane Myers Perrine, Author
Wednesday, April 11, 2012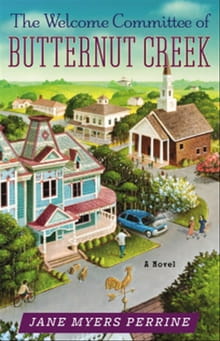 Everyone waved as Rex chugged along Main Street. Adam waved back, instantly charmed by the town, by the people who smiled a greeting, by the sturdy brick buildings with Victorian trim and enormous old trees standing tall and full and casting shade and shadows across the lawns and the streets.
"Town square just over on the other side of the courthouse, that way, Padre." Rex nodded to the right. "I'm fixin' to leave you and your car at the church. I'll help unload it. Don't look like you've got a lot of stuff."
As Rex turned the steering wheel, the truck lumbered into the church parking lot. "You leave your keys in the car and I'll pick it up later."
Adam swiveled to look at the driver. "Leave the keys in my car?"
"Padre, you're in Butternut Creek. No one steals cars here."
He glanced back into the rearview mirror. "Especially not that one."
While Rex lowered the car onto the asphalt, the new minister turned to study the parsonage.
His eyes lifted, up and up. He'd seen Victorians but never one quite so big. When the pulpit committee had come to Lexington to interview him, they'd described the house, but he hadn't realized the massive size of the pale yellow edifice: three stories, each six or eight windows across, doors and shutters of a dark green, every inch of surface covered with painted wooden curlicues of a dark purplish color—maroon?— plus newel posts and bric-a-brac and, bringing it all together, gingerbread. What in the world would he do with all that space?
As he studied the turret and the bay windows and everything else on the house, he felt sure the parishioners expected him to multiply and be fruitful, producing enough babies to fill every bedroom and all the children's Sunday school classes. He shook his head. Bad planning not to have brought a wife with him.
Sadly for the hopes of the congregation and all those empty rooms, no prospect for a bride had presented herself over the last few years, not since his fiancée Laurel dumped him after she decided she didn't want to marry a minister. The teas and worship services and good works, she'd said, weren't really her thing.
The church management professor at the seminary had warned the newly minted and still-single ministers not to date a young woman in the congregation. It could cause jealousy. It would cause discomfort if they parted. Gossip could ruin a minister's reputation.
Although warned by the professor, Adam had ignored the problem being a single minister presented several months ago. He'd known a few women interested in marrying a preacher, but they were in Kentucky. Even they wouldn't covet that position enough to follow him to Texas. Besides, he'd always felt a little uncomfortable with the forward women who made their determination to marry a minister clear. Not that he felt comfortable with any young woman. That personality flaw probably doomed the possibility of, like Abraham, his fathering a multitude of nations or even two or three children to fill those rooms.
Maybe the extra space could be used as classrooms for Sunday school? A library? A boardinghouse to bring in a little additional income for the church?
Adam reached forward to try the front door. It opened right up. Getting used to all this trust in small-town Texas was going to be hard. Would he insult someone if he locked the door?
Inside, his footsteps echoed. As he walked, he looked around the great expanse of hardwood floor, the huge and beautifully curved staircase leading up to a second story, the empty parlors on each side of a hallway that led back and back into unknown areas he'd explore later. The silence crushed in on him, and he felt even more alone than he had when his parents left him at boarding school years earlier.
Recently on First Chapters
Have something to say about this article? Leave your comment via Facebook below!
advertise with us
Example: "Gen 1:1" "John 3" "Moses" "trust"
Advanced Search
Listen to Your Favorite Pastors