The Welcome Committee of Butternut Creek
Jane Myers Perrine, Author
Wednesday, April 11, 2012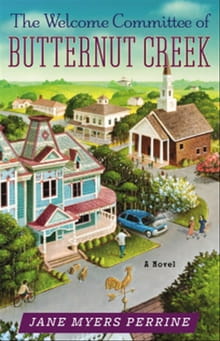 "Grab a box, Padre," Rex shouted from outside, interrupting his reflections.
"Coming." Adam ran back out to the car and flipped the trunk open. Within a few minutes, the two men had unloaded the car and lugged everything inside.
When Rex left, the sound of his work boots thudding across the polished floor, Adam glanced at the tiny heap of his possessions in the middle of what looked like a family room or maybe a dining area, and then began to explore. First he ambled back to the front porch, which looked as if it surrounded the entire house. His neighbors to the right and across the street lived in similarly huge Victorians. Then he turned to the left to study the beautiful brick church just north across the parking lot. Huge live oaks dripping with Spanish moss shaded the green lawn. Strength and love and serenity seemed to flow from the steepled roof and huge white columns. How could he have been so blessed to do the Lord's work here, in this perfect place?
Of course, he hadn't met Miss Birdie yet.

***

Adam's college days and nights had been spent in a dorm room. During seminary, he occupied the furnished parsonage of his student church up near Maysville, Kentucky, a town founded by Daniel Boone and famous as the birthplace of Rosemary Clooney. Because, as an adult, he'd lived in furnished spaces, he possessed no furniture: not a card table, not a desk chair, not a bed. Oh, he did have a sleeping bag from the youth retreats and church camp, a television that he hoped to hook up to cable soon, and a computer with the sermons he'd preached over the past three years. He'd shipped all his books ahead. All those boxes should be stacked in the minister's study at the church. Other than that, all his earthly possessions were in a couple of boxes and two ancient suitcases.
He studied the pile of his things and shook his head. This little bit to fill a huge parsonage.
Miss Birdie was horrified when she brought him dinner that evening.
"You're Adam Joseph Jordan?" Without identifying herself, she strutted into the barren desolation of the parsonage like a five-star general inspecting her troops. The fact that only one slightly terrified man stood before her didn't lessen her resolve.
"Yes, Miss Birdie." Adam knew who she was. Howard had warned him, told him how to address her and how to act in her presence. In that moment, he realized Howard's words of caution, the admonitions Adam had laughed off, were disturbingly true.
"Well, I swan." She looked way up at Adam. "You are a tall, skinny boy, aren't you?"
At six-four and 160, Adam had been tall and skinny as long as he could remember. Most people didn't comment on it.
She studied his face and height for a few more seconds. "With a name like Adam Joseph Jordan, guess you didn't have much choice but to become a minister." Then she took off across the entry hall. Her tiny feet, shod in tie-up shoes with fat rubber soles, squished across the hardwood floor before she stopped and stood between what Adam had labeled as two large parlors.
She wore her white hair in a no-nonsense, almost military style: short and parted on the right. No curls, no waves. Straight with a hint of bangs brushed to the left. Her chest held as high as a proud robin's, she turned to look at the empty space. Every inch of her body showed disdain as she inspected the area. How could such a tiny, thin woman give off such as air of authority, control, and doom?
How could she intimidate a man more than a foot taller than she? But she did. Adam cringed inside.
Chagrin oozed across her features. "Tut, tut, tut." She made a quick turn in the middle of the room to glare at the new preacher, then closed her eyes and shook her head. When she finally opened her eyes, she glared at him again.
Recently on First Chapters
Have something to say about this article? Leave your comment via Facebook below!
advertise with us
Example: "Gen 1:1" "John 3" "Moses" "trust"
Advanced Search
Listen to Your Favorite Pastors