The Welcome Committee of Butternut Creek
Jane Myers Perrine, Author
Wednesday, April 11, 2012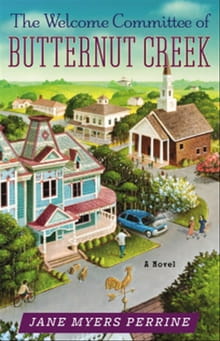 "What kind of minister . . . what kind of person has no furniture at all?"
Adam smiled at her in an effort to ingratiate himself. She didn't smile back. He'd disappointed her, as he figured he would many more times.
Did she expect Adam to be ashamed of his lack of furnishings? To look mortified? He didn't because he wasn't, but Miss Birdie wouldn't understand. Generations separated them. She'd probably never heard of a futon. When he didn't flinch—at least, not outwardly—or apologize for his shortcomings, she said, "Hmph."
He'd rapidly learn that she expressed some of her most powerful comments with sounds.
With a quick turn, she marched down the short hallway and into the room where his few possessions resided. She glared at the pile of stuff.
"What's this?" She pointed at his pitiful collection of belongings. "You really don't have any furniture? None?"
"I have a television and a computer and a . . . that's about it." Instantly recognizing that his words didn't satisfy her a bit, Adam added, "I'll have to work on that." He again attempted to disarm her with a smile but learned in a moment that Miss Birdie was not disarmable, especially when the truth lay so heavily on her side. "Treasure in heaven, you know," he added.
Ignoring the biblical reference, she said, "Where am I supposed to put this?" She nodded toward the quilted tote that dangled from her arm and emitted a mouthwatering aroma. "Where are you going to eat it?" She tilted her head and squinted at him. "Are you the kind of man who stands at the kitchen counter to eat?"
Yes, Adam was, although he hadn't realized it qualified him as part of a decadent class of humanity. After disappointing her about the furniture, he couldn't confess he was guilty of what she so clearly considered a lack of proper etiquette, of gentility and acceptable rearing. She would have turned, he feared, and taken that dish away. The aroma of what she'd prepared called to him, made his stomach growl after a ten-hour drive without stopping for meals because he'd been afraid the old car would conk out if it got a rest and a chance to think about how much farther it had to go.
"Oh, no. I plan to get some furniture and sit at the table. For the moment, I'll have to stand at the kitchen counter to eat." He nodded his head, then shook it, not sure which action was required to respond to her question. "Only for a few days."
"Don't suppose you have a bed?"
"Sleeping bag."
"Sofa? Chair?"
He shook his head.
She took a step forward and scrutinized him. Adam felt judged and found wanting. No hope of redemption existed. Miss Birdie's expression didn't even hold out the promise of grace. "Do you have a towel? A bar of soap?"
"Soap. Yes, I have soap." Glad to have finally passed one of her tests, he pointed toward a box and a small suitcase. "And probably a couple of towels." He waved at a tattered suitcase held together with a belt. "Somewhere."
With a deep sigh—one that Adam felt came from the very depths of her soul and left no doubt what she thought about this feckless young man who stood to eat and yet had the audacity to undertake the task of becoming her spiritual adviser— she placed the dish on the kitchen counter, turned, and squish-squished out of the house. Without a Good-bye or a Blessings or a Welcome to Butternut Creek, she left.
After she slammed the front door, Adam discovered a spoon and plastic tumbler in one of his boxes and was able to eat some of the delicious chicken spaghetti right out of the dish. Still, he kept checking the entrance hall in case Miss Birdie might fling the front door open and shout Aha! when she found out he hadn't even bothered to find a plate because he was a rude and boorish young man, as most twenty-five-yearold bachelors he knew were. The fear of her appearance made locking the door seem like a good idea.
Recently on First Chapters
Have something to say about this article? Leave your comment via Facebook below!
advertise with us
Example: "Gen 1:1" "John 3" "Moses" "trust"
Advanced Search
Listen to Your Favorite Pastors