The Welcome Committee of Butternut Creek
Jane Myers Perrine, Author
Wednesday, April 11, 2012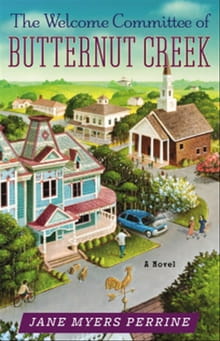 He had furniture. An abundance of furniture. More than he'd ever owned or thought he'd possess. The sight of his parlor and the new furniture filled him with a feeling of comfort, security, and joy. Even if they were temporary, even if the furnishings belonged here, stayed in the parsonage for the next minister of Butternut Creek, the sight of this plenty and a self-indulgent pride of ownership filled Adam with such an agreeable warmth that he struggled to force back that unholy and impious sentiment and attempted to refocus on the spiritual.
That not quite accomplished, he wandered onto the front porch and settled on the swing, pushing back with his feet a couple of times until the movement became established. A soft breeze dried the perspiration he'd worked up from watching those fine new belongings being brought in.
He looked out across the wide green yard he'd need to mow soon. Then his gaze again turned toward the church with the tall pillars in front, two on each side of the massive front door that looked as if it could have been part of the Arc of the Covenant. His eyes climbed the spire to the cross atop the steeple.
On that lovely, gentle evening, he whispered a verse from Psalms: "I give thanks to You, O Lord my God, with my whole heart, and I will glorify Your name forever."
The beautiful town wrapped itself around Adam, enveloped him in peace while the pale blue of the sky relaxed and refreshed him as the last rays of the sun warmed the air. The wonders of creation filled Adam with awe as day became night.
"All is right with Your world, dear Lord."
And it was.
Yes, it was and it still is.
Copyright © 2012 by Jane Myers Perrine
All rights reserved. In accordance with the U.S. Copyright Act of 1976, the scanning, uploading, and electronic sharing of any part of this book without the permission of the publisher is unlawful piracy and theft of the author's intellectual property. If you would like to use material from the book (other than for review purposes), prior written permission must be obtained by contacting the publisher at permissions@hbgusa.com. Thank you for your support of the author's rights.
FaithWords
Hachette Book Group
237 Park Avenue
New York, NY 10017
www.faithwords.com
Recently on First Chapters
Have something to say about this article? Leave your comment via Facebook below!
advertise with us
Example: "Gen 1:1" "John 3" "Moses" "trust"
Advanced Search