Thirty-One Days of Drawing Near to God
Ruth Myers
Wednesday, March 23, 2011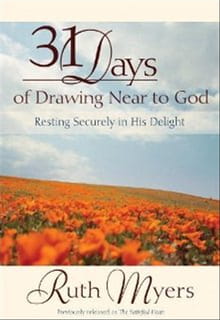 After another four years went by, the Lord led me to marry again. Warren Myers—who served in Asia during the same years Dean and I did—became my husband and the head of our family, warmly welcomed by our teenagers (though, of course, adjustments followed). That's the "very wonderful" part. The "impossibility" is how Warren and I were brought together. For years I had a profound respect for his walk with God, and I greatly valued his friendship. Yet when Warren told me he felt the Lord wanted us to begin a relationship, I thoroughly disagreed.
The years went by. I'm sure it took clever strategy on the Lord's part to keep Warren unmarried, especially with lovely, godly women available and despite unrelenting encouragement from friends to find a wife. I prayed that God would lead Warren to someone else. How grateful I am the Lord disregarded those prayers. As Hannah More, a British author and playwright in the early 1800s, wrote, "Did not God sometimes withhold in mercy what we ask, we would be ruined at our own request."
Warren had been twenty-three when he yielded his life to Christ as Lord. At that time God assured him that if he left marriage in His hands, He would not let him miss the right girl or marry the wrong one. Now, twenty-three years later, God answered by working in my heart in a thorough way. He gradually transformed my respect for Warren into love, eradicated my objections, and gave me a deep desire to become his wife.
Once again I knew I dared not hold this earthly love with a clenched hand. After all, Warren was God's man, not mine. So even before we finalized our engagement, I promised to give Warren back to the Lord all the days of his life. I included that promise in my wedding vows.
A year and a half after Warren and I were married, we returned to Asia, where we have lived and ministered for most of our married life. For three years we had Brian and Doreen with us in Singapore, for twenty-three years they were half a world away.
Then in 1995 Warren was diagnosed with cancer— fourth-stage lymphoma. In the months and years since we learned this, he has been prayed for by the elders of our church (James 5:14-16) and by many others around the world, and he has undergone careful and promising treatment. With confidence we ask for complete healing, believing this fits in with our much deeper desire and prayer, "Our Father who art in heaven, may Your name be honored, may Your kingdom come, may Your will be done." We have a quiet faith that the Lord is healing him. Yet we refuse to clench our fingers around physical healing, unwilling to let go.
I want Warren to be healed. I want him to live a long time, and I believe he will. But more than that I want God's will. He knows the good plans He has for us, plans for welfare and not for evil, to give us a future and a hope. I thank the Lord for this promise, and I believe it because He's never lied to me.
DEEP ROOTS IN THE SOIL OF HIS LOVE
In the decades of living I've outlined here, I've seen God beginning to answer for me Paul's beautiful prayer for believers in Ephesians 3:17-19 (expressed here in The Living Bible):
May your roots go down deep into the soil of God's marvelous love; and may you be able to feel and understand, as all God's children should, how long, how wide, how deep, and how high his love really is; and to experience this love for yourselves, though it is so great that you will never see the end of it or fully know or understand it. And so at last you will be filled up with God himself.
This may sound like an impossibly high goal—to be "filled up with God Himself" and to fully experience a love that's so far beyond fully knowing. But it's not too hard for God. Immediately Paul goes on to say, "Now glory be to God, who by His mighty power at work within us is able to do far more than we would ever dare to ask or even dream of—infinitely beyond our highest prayers, desires, thoughts, or hopes." If we truly want to know His love more, we can use this prayer of Paul's to pour out our hearts to Him, and He will more than answer.
Recently on First Chapters
Have something to say about this article? Leave your comment via Facebook below!
advertise with us
Example: "Gen 1:1" "John 3" "Moses" "trust"
Advanced Search
Listen to Your Favorite Pastors