Thirty-One Days of Drawing Near to God
Ruth Myers
Wednesday, March 23, 2011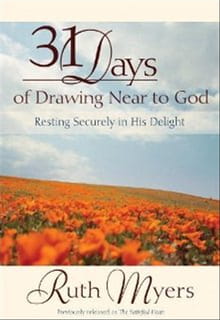 God offers us a perfect and permanent love, a love relationship that can meet our deepest needs at every point of life and forever. And He wants us to respond to His love. In His heart He is intensely involved with us.
I wonder, are we intensely involved with Him? Only as we daily renew our focus on Him as our first love, our best love, our perfect love, can we find the peace that comes with a satisfied heart.
Day 1: I Must Have Love

Through the years, the Lord has been weaving into my life a richer awareness of how lavishly He loves me (and all of us) and how deeply He longs for each of us to experience His love. My heart has been opened again and again to delightful discoveries that have made me feel more satisfied and at rest in Him, more alive in His love, more liberated, more secure.
All of these rich discoveries are available to anyone who truly wants to know God better.
A. W. Tozer wrote of the knowledge of God stretching out before us like a vast ocean, with you and me like children playing along the beach (and, I like to add, perhaps dipping our toes into the water now and then). There'sso much more to know and experience of this wonderful, loving God. We've only just begun.
Amy Carmichael, Irish missionary to India, deeply experienced the love of God. Yet in one of her poems she implored Him to reveal His love even more:
Love of my heart, my stream runs dry;
O Fountain of the heavenly hills,
Love, blessed Love, to Thee I cry,
Fill all my secret hidden rills.
Waters of Love, O pour through me;
I must have Love; I must have Thee.
I'm trusting that you've begun to read this book because you have this same longing deep within, even as I do: We must have love. We must have God's love. We must have God, the only source of perfect, unfailing love, the only one who can fully satisfy our hearts. I believe God has sovereignly brought you and me together at this time and through these pages, and He wants to bless us in the adventure of letting Him respond to our heart cry.
The Lord deeply desires for us to know Him and experience His love. With boundless emotional longing, He wants us to know Him as He really is. He has already handed us an invitation to this in His Word, where we find the fullest portrait of Him, the most complete unveiling of His love, ready for us to contemplate and experience. From beginning to end, and in surprising and heartwarming ways, the Bible reveals a love that can flood our hearts with ever-increasing power through the Holy Spirit within us. God's love is a love that entirely satisfies, a love that brings true happiness and inner growth. It's a love that expands and corrects our thinking, changing us both inside and out.
Psalm 90 is a prayer of Moses as he led the people of Israel in the wilderness. They had known many sins, many failures. But Moses knew the Lord well, and in verse 14 he prays to Him, "Satisfy us in the morning with your steadfast love, so that we may rejoice and be glad all our days" (NRSV). The Moffatt translation reads, "Let thy love dawn on us undimmed." Moses knew the true source of all satisfaction: the Lord's steadfast love, dawning in our darkness. He knew this was the basis for joy even in the hard times. And he asked to experience it early.
I've found this Scripture a helpful one to pray. Lord, do this for me: Satisfy me early, soon, this morning, with Your steadfast love, so I can rejoice and be glad all day long. Then I pray the same thing for my husband and for us as a couple: Satisfy us early with Your love. And I gradually spread out from there, praying for others: Satisfy them (or him or her) this morning with Your steadfast love. Let Your love dawn on them this morning, so that today they may rejoice in You.
Recently on First Chapters
Have something to say about this article? Leave your comment via Facebook below!
advertise with us
Example: "Gen 1:1" "John 3" "Moses" "trust"
Advanced Search
Listen to Your Favorite Pastors