Thirty-One Days of Drawing Near to God
Ruth Myers
Wednesday, March 23, 2011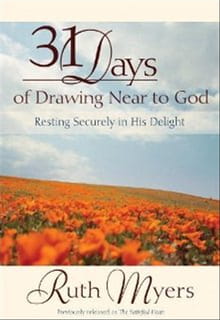 MAJOR PURSUIT
After I was graduated from high school, I set out for Northwestern Bible School and College in Minneapolis. There the Lord did more new things in my heart. I'd been having daily devotions since I was sixteen. Often it was the last thing I did at night, and I could hardly hold my eyes open. Nevertheless, I congratulated myself for being such a good Christian.
Then the Lord began speaking: "Ruth, that's not the point at all. I want you to come to My Word because you want to know Me." The lesson was reinforced for me by the hymn "Break Thou the Bread of Life" in the lines that say,
"Beyond the sacred page I seek thee, Lord; my spirit pants for thee, O Living Word." I still wanted Him to teach me the principles I should know from the Bible, but I began going to Him more often with the prayer, "Lord, most of all I want to know You." Since that request is in line with God's will for His children, He answered it just as He promised in 1 John 5:14-15.
There was one fellow in school who, more than anyone else, seemed set upon knowing the Lord, and I greatly admired him. Stan had plenty of work and study responsibilities, and between those and his pursuit of the Lord, he didn't have time for dating. Being a little beyond my reach made him all the more desirable. I learned that one of Stan's favorite Scripture passages was from Philippians 3. I began to pray over it—and to cry over it, for I was learning that I had to get my heart needs met in my relationship with Jesus Christ and not anywhere else. The passage soon became a favorite of mine as well. Verses 8 and 10 in the Amplified Bible (condensed a bit) read,
I count everything as loss compared to the priceless privilege—the surpassing worth and supreme advantage—of knowing Christ Jesus my Lord.… For His sake I have lost everything and consider it all to be mere rubbish, in order that I may gain Christ.… [For my determined purpose is] that I may know Him—that I may progressively become more deeply and intimately acquainted with Him, perceiving and recognizing and understanding [the wonders of His Person] more strongly and more clearly.
Nothing else meant anything to Paul compared to the priceless privilege of knowing this vastly wonderful Person he had met. Back then I didn't have the Amplified version but I did have Philippians 3:10 in the King James: "That I may know him." I began to hear God say, "Ruth, this must be your major pursuit." He used circumstances to drive me to my knees and to begin praying along this line. And, as a young single woman, I discovered that the Lord could and did meet my deepest longing if I let Him be my first love.
My younger sister Mary eventually joined me at Northwestern, and we found a poem, the source of which is unknown, that we often reflected on and used in prayer:

Purge me, Lord, of my follies; an empty cup let me be,
Waiting only Thy blessing, hungry only for Thee.
Can even the Lord pour blessing into a cup that is full?
Put treasure into a locked hand, be He ever so bountiful?
Empty me, Lord, and make me hungry only for Thee.
Only Thy bread once tasted can ever satisfy me.

DESIRED AND DESIRING
Then came another crucial lesson from the Lord, a brand-new revelation for me: Not only was He compassionate and understanding, not only was He always there to tenderly care for me and love me, but He also desired me. He longed for fellowship with me.
Sometime later I realized how strongly this truth had impressed me as I talked with a friend in college, a tough young man just out of the navy. Doug told me one day that he'd been having trouble getting out of bed for his morning quiet time. But he had found a verse that helped him. It was in Proverbs (I soon forgot the reference because I didn't feel inclined to write it down): "How long wilt thou sleep, O sluggard? When wilt thou arise out of thy sleep?"
Recently on First Chapters
Have something to say about this article? Leave your comment via Facebook below!
advertise with us
Example: "Gen 1:1" "John 3" "Moses" "trust"
Advanced Search
Listen to Your Favorite Pastors