Thirty-One Days of Drawing Near to God
Ruth Myers
Wednesday, March 23, 2011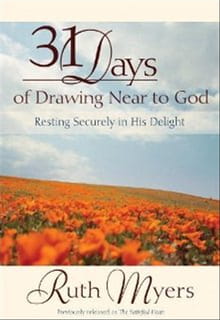 Well, I thought, that's fine for Doug. But I don't want to wake up to that. I preferred hearing the Lord speak to me through Song of Solomon 2:13-14—"Arise, my love, my fair one, and come away.… Let me see your face, let me hear your voice, for your voice is sweet, and your face is comely" (RSV). How could the Lord say that to me? Because in Christ I stand forgiven and cleansed, and in my innermost being I'm beautiful with His beauty. Amazing! To think that my appearance is pleasing to God, that my voice is sweet, that He desires intimate fellowship with me! What a motivation to spend time with Him.
Later I was struck by these words from an unknown author:
My goal is God Himself;
Not peace or joy
Or even blessing,
But Himself, my God.
'Tis His to lead me there—
Not mine, but His.
At any cost, dear Lord,
By any road.
Another truth dawned on my heart during that time— a truth that revolutionized my life. I found this truth in capsule form in Colossians 3:4—"Christ…is your life." And I personalized it to say, "Christ is my life." As one man of God put it, "It's not only true that my life is Christ's, but my life is Christ."
How delightful it was to learn that Christ my Savior, the Lord of love, triumphant over sin and death, is my life! His Spirit is united with mine in a permanent union (1 Corinthians 6:17). And as I live by faith in Him, His Spirit unveils truth to me, empowers me to do His will, and pours out His love in my heart (Galatians 2:20, Philippians 2:13, Romans 5:5). What a vast difference this makes in how I view myself: I am united in the most intimate way with the Lover of my soul. I am able to enjoy His divine, self- sacrificing love and, with growing depth and constancy, to channel it to other people.
Once a year during my time at Northwestern, an elderly Southern gentleman would speak for a week in our daily chapel services. His name was Dad Byus. He wasn't particularly impressive in appearance; what I remember most were three funny little pin curls of white hair hanging down his forehead. But he radiated Christ. As he preached, he would suddenly burst out singing, "My wonderful Lord, my wonderful Lord, by angels and seraphs in heaven adored," and we would all join in. He often quoted these words: "I have seen the face of Jesus; tell me not of ought beside. I have heard the voice of Jesus, and my soul is satisfied." The Lord used this man's teaching to make me more hungry for Him.
The same year that Mary joined me at Northwestern, two identical twin brothers enrolled and were noticed by everyone. They were handsome, they dressed attractively, they were musical, and they walked closely with the Lord. And they were the same age I was. Lots of girls liked the Denler twins. Mary and I did too, but we didn't think they'd ever like us. My sister was so dogmatic about this that I said, "Mary, you can't be that sure about anything."
The twins didn't date anyone that first year. But the next fall Dean Denler asked me to go with him to an upcoming stage play, the big production of the school year. On the same day Gene Denler asked Mary. I found out later that Dean told his brother, "Ruth said yes, but she sure didn't look very enthusiastic." The fact was, I was shocked.
Mary and I talked about this upcoming date as we left the campus that evening, heading for home. At first our conversation was along the lines of how lucky can a girl be? Then the Lord brought to mind Psalm 73:25-26, a passage we had memorized: "Whom have I in heaven but You? And there is none upon earth that I desire besides You" (NKJV). God was reminding us that He was to be our first love. I don't think this verse means we can't or shouldn't have any other desires. Rather it's saying, "Lord, in comparison to my desire for You, I desire no one else. If ever I must choose between You and any other, I'll choose You."
Recently on First Chapters
Have something to say about this article? Leave your comment via Facebook below!
advertise with us
Example: "Gen 1:1" "John 3" "Moses" "trust"
Advanced Search
Listen to Your Favorite Pastors