Thirty-One Days of Drawing Near to God
Ruth Myers
Wednesday, March 23, 2011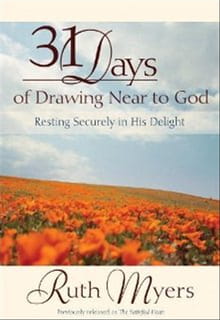 Verse 26 goes on, "My flesh and my heart fail; but God is the strength of my heart and my portion forever." We both felt that going out with the Denlers would surely be a one-time event, but God would be our portion forever—all through life and all through eternity. Only one relationship is sure to be lifelong. Only one Person is for sure our permanent life partner. And He is our best life partner, worthy above all others of being our first love.

The Lord reminded me of this truth many times. I'm so grateful He did.
PLOWING TIME
It turned out to be more than one date. Within two years we were engaged: Mary to Gene, and I to Dean. The Lord (through the Navigators) sent the twins ahead of us to Taiwan to pursue ministry opportunities there.

On our way to join them a year and a half later, Mary and I spent half a day with Lila Trotman, the wife of Dawson Trotman, founder of the Navigators. Lila knew that our future husbands would often be traveling in their ministry responsibilities. "Just remember," she told us, "God will make up for every moment you're apart." Then she added, "And He won't wait to do it until you're back together again." In other words, God would make up for our loss with Himself.
My inner response to Lila's gracious counsel was, "Yes, Lord, You are well able to do this, and You will—if I let You." This realization was great preparation not only for marriage but also for the time, seven years later, when God would call Dean home.
Soon it was time to cross the Pacific on a comfortable American President Lines freighter. Mary and I were so excited. To be used by the Lord in Asia had become the dream of our hearts, and now in 1952 this dream was coming true—as were our dreams of becoming Mrs. Denler.
A week after we arrived in Taiwan we had a double wedding in Taipei, then we headed to Hong Kong for our honeymoons. Afterward Mary and Gene flew off to the Philippines to serve the Lord there, and I went with Dean to southern Taiwan. Mary and I had always been close, the twins had been even closer, and most of our dating had been as couples together. So we were facing some adjustments.
Lots of them, in fact. And we had received little prior help on how to handle them. Decades later, I helped con duct many two- to three-month orientation programs to help western missionaries prepare for life in Asia. But back in 1952, new missionaries received just one bit of counsel on how to respond to all the unfamiliar ways of the Chinese culture: "Not wrong, but different." This was sound advice from a veteran missionary and dear friend, Dick Hillis, founder of Overseas Crusades. It has helped often in building relationships as well as in adjusting to other cultures. But entering another culture involves more than that.
In our new surroundings we did not yet know the language. I began to miss greatly the rich Christian fellowship I had long known. A few older missionaries were in our city, and that helped a lot. But being with them just wasn't the same as relating to loved ones and people our own age. Also, back in America I had enjoyed helping other young women grow in their faith, and I missed that as well.
Two big surprises made our adjustments even more complex: Dean and I had our children earlier than we had planned. From the first we were grateful for those precious gifts from our sovereign God. And later I was so glad that Brian was six and Doreen almost five when their father died—old enough to have memories of him, old enough for me to communicate with them, and easier to care for than if they were still babies or toddlers.
Those years in Taiwan were good in so many ways, but they were hard years. They were a time of plowing in my life, when the steel of the plow was cutting deep into my soul. I could no longer feel the love of God as easily as I had before.
Recently on First Chapters
Have something to say about this article? Leave your comment via Facebook below!
advertise with us
Example: "Gen 1:1" "John 3" "Moses" "trust"
Advanced Search
Listen to Your Favorite Pastors