Thirty-One Days of Drawing Near to God
Ruth Myers
Wednesday, March 23, 2011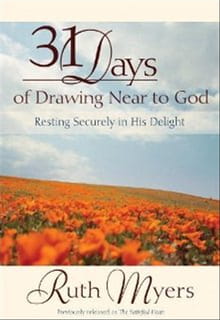 I would tell Him, "Lord, I don't know what's happening to me. I don't know why my emotions don't cooperate like they used to." Then I would remember Hebrews 13:8 where God says, "Jesus Christ is the same yesterday and today and forever" (NIV). So I would choose to believe that His love for me and His life in me had not changed, but were still as warm and true and certain as before.
How I missed my sister! I remember going out under the sky at night to decisively tell the Lord (and myself), "I don't have to see Mary. You are enough." Again He would meet the longings of my heart, but it wasn't with the easy joy I'd so often known earlier.
I also experienced the reality that my husband couldn't meet all my needs. Dean loved me very much, but his love wasn't perfect. Sometimes he was occupied with his own needs. Sometimes he would be away for weeks at a time. Often the Spirit would bring to mind Psalm 73:25-26, reminding me again: "Only one Person is your best, your perfect life partner. Only One can be with you all the time and meet your deepest needs. You may love others as much as you can, as deeply as you will, but I must be your first love."
The truth of God's love and the solid footing of His Word kept me steady. I found that many truths I'd known in my head were becoming more deeply rooted in my life. The plowing time was of great value, and in the long run it made me love the Lord more.
But after about three years of plowing, God took me back to the second chapter of the Song of Solomon: "For lo, the winter is past, the rain is over and gone. The flowers appear on the earth; the time of singing has come, and the voice of the turtledove is heard in our land.… Rise up, my love, my fair one, and come away" (verses 12-13, NKJV). I felt God was telling me that the plowing time was over, the winter done with, and I now could look forward to a new fresh springtime of love with Him.
On the basis of Romans 15:32 ("That I may come unto you with joy by the will of God, and may with you be refreshed," KJV), I began to pray for increased refreshment in ministry. I trusted Him to fulfill in a new way John 7:38— that as His rivers of living water flowed through me in service to others, I, too, would experience more fully their life-giving freshness.
In His all-wise love, God still had more plowing times planned for me. Through each one He has strengthened my experience of His love. He has caused me to seek Him more desperately and know Him more deeply.

TRUEST GAIN
I've often appreciated the statement, "Each loss is truest gain if, day by day, He fills the place of all He takes away."
In our second missionary term we moved to Hong Kong, where Gene and Dean together directed the Navigator ministry. A year later, in 1959, we learned that Dean had cancer. He lived only nine more months.
It was a fast-growing form of cancer and quickly worsened, often causing him severe pain. We prayed, and others prayed. Twice, in direct answer to prayer, Dean experienced a dramatic turn for the better. But then God began to speak to our hearts, leading us no longer to claim healing and letting us know He wanted to take Dean home. He confirmed this by giving several men and women of God the same message. This affirmation helped us hold Dean in open hands and prepare our hearts for his homegoing.
Even in his suffering Dean would say, "Remember, Ruth, God has our best interests at heart." And God comforted both of us with a quotation someone sent us: "God is too wise to ever make a mistake and too loving to ever do anything unkind."
My friend Doug—the one who shared with me the sluggard verse from Proverbs—sent us Jeremiah 29:11. This time his choice of verses really appealed to me: "For I know the plans I have for you, says the LORD, plans for welfare and not for evil, to give you a future and a hope" (RSV). I had never focused on this verse before, but now I explored the full context while reading through the prophets. I discovered that history had proved this promise true for the people of God to whom it first was spoken. They suffered a great tragedy. Yet through it all, the Lord protected them and eventually restored their fortunes.
Recently on First Chapters
Have something to say about this article? Leave your comment via Facebook below!
advertise with us
Example: "Gen 1:1" "John 3" "Moses" "trust"
Advanced Search
Listen to Your Favorite Pastors