Thirty-One Days of Drawing Near to God
Ruth Myers
Wednesday, March 23, 2011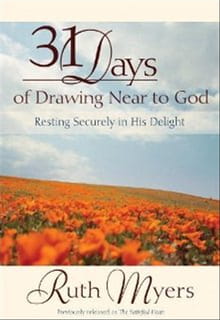 I went before God and said, "Lord, You say that You know the plans You have for us. I personally don't really know what You're doing. Dean is just starting his work in Asia. He has two young children. He has me. I don't understand what's happening or why You're allowing this. But You say Your plans are good, and You've never lied to me. So I choose to believe You." Again and again God used Jeremiah 29:11 to calm my heart and remove my fears. More help came from Psalm 31:15, which says, "My times are in thy hand" (or as one version says, "My destiny is under Your control"). I realized that Dean's life was not in the hand of this dread disease. His life was not even in the hands of his doctor, a godly and skilled physician. Dean's life was in the hands of God. Our sovereign God was with us, and we could trust Him.
Gene and Mary took care of our children while I stayed in the hospital room with Dean, sleeping in a smaller bed near his. Dean was growing weaker and was hardly able to speak. One morning as I woke up, he said to me in his slow speech, "You know, honey, I almost died last night."
"You did? No, I didn't know that."
His frail voice continued, "Oh, what a wonder it was!"
I tenderly urged him on. "Honey, what was a wonder?"
"Well…you just can't describe it."
"What was it you can't describe?"
Dean answered, "The wonder of being with the Lord." Then he began singing, and I joined him: "It will be worth it all when we see Jesus. Life's trials will seem so small when we see Christ. One look at His dear face, all sorrow will erase. So bravely run the race, till we see Christ."
Soon afterward, Dean's brave race was over and he went to be with the Lord. I had lost my best and primary human love. But I wasn't alone. I still had my first love; I still had my Source of deepest satisfaction. So the bottom did not fall out of my life.
I cried often. In my quiet times, no matter what I did, I would weep. I'd worship and cry. I'd pray and cry. I'd read the Bible and cry. But I also received rays of warmth from God, shafts of sunlight shining in through His Word, through other people, through other ways. For example, on the evening of the day Dean died, our daughter Doreen came rushing to me in the kitchen and said, "Just think, Mommy: My daddy can see the angels now!"
How grateful I was that God had taught me not to dare fixate on any other relationship, but to focus only on Him. Only His love was sure to be lifelong.
GOD SUPPLIES
Soon after Dean was promoted to glory I received a letter ending with these words: "May you find in the Lord Jesus Christ your Boaz." God was leading me to the book of Ruth as He had often done before. And what did Boaz do for Ruth? He satisfied her hunger and quenched her thirst; he provided her a home and supplied her needs; and he gave her a fruitful place in the harvest. I found the Lord doing these same things for me.
Six months after Dean's death, the children and I traveled back to the United States with Gene and Mary. After another six months we said good-bye to them as they returned to Asia. Then the three of us started a new chapter of our family life, settling in Colorado Springs. The children, especially Brian, struggled greatly, for they had lost not only their father but now also their extended family, including their Uncle Gene who was so much like their daddy. Despite their grief, Brian and Doreen adjusted quickly to their new surroundings, to school in America, and to life in general. How grateful I am for the many people who prayed for them back then and continued to do so throughout the years!
Recently on First Chapters
Have something to say about this article? Leave your comment via Facebook below!
advertise with us
Example: "Gen 1:1" "John 3" "Moses" "trust"
Advanced Search
Listen to Your Favorite Pastors