Thirty-One Days of Drawing Near to God
Ruth Myers
Wednesday, March 23, 2011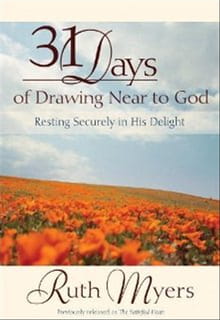 Besides providing prayer backers and friends, the Lord as my Boaz also supplied our needs for a home and clothing. And He gave me a part in His spiritual harvest at Glen Eyrie, headquarters of the Navigators. There I had abundant opportunities for ministry, including training other women to serve the Lord overseas. Besides counseling women and girls individually, I also spoke to women's groups and at conferences and retreats.
When we said good-bye to Gene and Mary, we hoped to join them later in Manila. But I had a deepening impression that the Philippines was not to be our field of service. I prayed about going back to Hong Kong, but again found no freedom of heart regarding this. Through counsel and prayer it seemed the Lord was telling me to stay at Glen Eyrie, helping train others who in turnwould go into many places throughout the world.
But to think of perhaps never returning to Asia! Of perhaps never again ministering among the Chinese or Indians or Filipinos! Then I came across Deuteronomy 3:26-28.
God had told Moses he was not to enter the Promised Land. Moses pleaded with God to let him go. The Lord's reply was final: "Let it suffice you; speak no more to me of this matter.… But charge Joshua, and encourage and strengthen him: for he shall go" (RSV). Somehow this passage reaffirmed my conviction that, at least for the foreseeable future, we were to remain where we were. "You're not to go," I sensed the Lord saying, "and you're not to beg Me to let you go. Instead you're to charge others who will go and encourage and strengthen them." He graciously removed from my heart any restlessness about the matter.
HOLDING MY RIGHT HAND
I continued to be amazed at how God's love meets our needs when we let Him, satisfying our hearts and giving us contentment and joy. Soon after Dean's death my mother sent me a Scripture—Isaiah 41:13, which says, "For I, the LORD your God, will hold your right hand, saying to you, 'Fear not, I will help you' " (NKJV). That's nice, I had thought, especially in the version that says, "whispering to you, Fear not.…" Though the verse didn't touch my heart deeply at the time, I memorized it. Later I learned how much I needed it.
Brian and Doreen would often hold my hand, and that meant a lot to me. I adored having them with me and enjoyed the sense this gave me of still being in a family. But I needed more than that. Especially in the second year after Dean passed away, the loneliness and longing for love often swept in upon me in a deeper way than before.
We were living in a lovely third-floor apartment in Glen Eyrie's huge old castle. How we reveled in the many opportunities for fun and rich fellowship with Navigator staff and trainees, especially at mealtimes. But overnight we would sometimes be the only people in the castle with its scores of rooms. I wasn't afraid of our being by ourselves. But at times in those still, silent hours after I tucked the kids into bed, and in my growing loneliness, a host of "what-if" fears about my life rose up. What if God asks me to do this or that? What if such-and-such happens? I'd even ask myself—while thinking about a man who was a good friend but whose wife I couldn't imagine being—What if God asks me to marry him?
So many different fears! "Lord," I would pray, "please say something to encourage me."
He would bring to me His promise in Isaiah 41:13, speaking it to my heart in the present tense: "I, the LORD your God, hold your right hand, whispering to you, 'Fear not, I will help you.' " As He spoke His Word to my heart, I found it helpful not only to listen, but also to speak it back to Him in thankful prayer.
Recently on First Chapters
Have something to say about this article? Leave your comment via Facebook below!
advertise with us
Example: "Gen 1:1" "John 3" "Moses" "trust"
Advanced Search
Listen to Your Favorite Pastors