Thirty-One Days of Drawing Near to God
Ruth Myers
Wednesday, March 23, 2011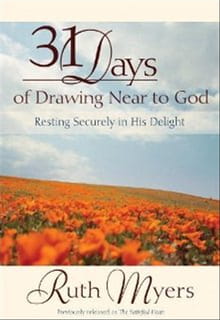 The passage goes on to say that God does not change. So I could say to Him, "Lord, You're the same as You were when I lived on the Glen. You're the same as You were when I lived with Dean. You are not the least bit different." I rejoiced as He comforted my heart with His unchanging love.
WHO NEEDS ME?
Four years after Dean died, we were surprised by the opportunity to finally return to Asia for the summer, including a month's stay with Gene and Mary in Manila. After the initial excitement, my heart was flooded with fears about going so far by ourselves and with anxiety about the many things that could happen to the children. I remembered all the sickness they had experienced there before. I also recognized that we would be in Satan's territory. Then Psalm 121:8 came forcibly to mind: "The LORD shall preserve your going out and your coming in from this time forth, and even forevermore" (NKJV).
Meanwhile, before we left Colorado Springs, several things happened that made me feel that no one there really needed me. Most of this was probably only in my imagination, though I think some of my impressions were accurate.
For Brian and Doreen, the month with their Uncle Gene and Aunt Mary in the Philippines was especially a delight. Since Gene was an identical twin to their father, being with him was almost like being with Daddy again. Gene did an incredible job of giving them a good time. And what a joy it was to have the whole clan together once more!
Later we stopped in Hong Kong, one of my favorite places. While there we visited a counselor, who was offering his services free of charge to missionaries (and I still qualified). After Dr. Rodd had talked with each of us, he told me Brian had some thoughts and feelings I might want to find out about.
As the children and I went out to dinner that night, Brian hesitantly mentioned that there was something he should probably let me know.
"What is it, Brian?"
"Well," he answered, "I don't think I should tell you. It might make it hard for you to be a good mother."
"Oh," I said, "honey, please tell me. Mommy will understand."
Finally he came out with it: "You know…sometimes I wish you would die so I could go live with Uncle Gene."
I handled it without tears as long as I was with the children. "Honey," I told him, "I can understand that. He's a wonderful uncle. He's so much like your daddy. I understand why you feel that way."

But in bed that night I let myself have a long, hard cry: Even my kids didn't need me!
I knew this was a lie. Brian didn't mean he didn't need me. But that's the feeling I had.
The Lord lifted me from that experience to thrill me in a new way with what I mean to Him. I recognized the truth that if God were to take me home any moment, He would lovingly meet the needs of those around me in other ways. The fact is, most of us are probably needed here much less than we like to think. But for all of time and all eternity, there's an exciting sense in which God does "need" you and me. In one sense He has no needs. But in another sense He has love needs. He has longings. And we as His loved ones can fulfill His deep desire for intimacy with us through our love and worship, our fellowship, our obedience. This quotation captured that truth for me: "Every soul is a vast reservoir from which God can receive eternal pleasure." Each of us can bring Him joy in ways no one else can. And that will never change.
FROM IMPOSSIBLE TO WONDERFUL
Someone has said, "When God wants to do something wonderful, He begins with a difficulty. When He wants to do something very wonderful, He begins with an impossibility."
Recently on First Chapters
Have something to say about this article? Leave your comment via Facebook below!
advertise with us
Example: "Gen 1:1" "John 3" "Moses" "trust"
Advanced Search
Listen to Your Favorite Pastors