TJ and the Time Stumblers: Oops!
Bill Myers, Author
Monday, September 12, 2011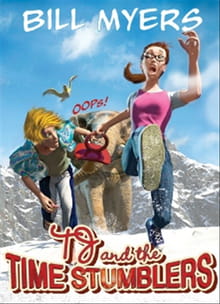 Wanting to be part of the conversation, TJ threw in her own comment—the always clever and very appropriate
"A
H
H
H
H
H
H
!
!
!"
And refusing to be left out, the elephant, who was falling beside them, added,
"I

d
o
b
e
l
i
e
v
e

t
h
i
s

m
a
y

h
u
r
t

a
b
i
t
!"
But thanks to Herby's great thinking (and accidental good luck), he tried the Transporter Beam Blade again and
chugga-chugga-chugga
instead of hitting the ground, they
BLING!-ed
back to school and were running down the hallway toward the auditorium.
That was the good news. But as you may recall, every time TJ gets a little good news, she gets a ton of bad. In this case, it came in the form of one African elephant (whose breath had not improved) who was still running after them. And (since we're having a two-for-one special in TJ's bad luck department) there was the added problem of Hesper Breakahart, star of her own TV series on the Dizzy Channel (and the richest, most gorgeous, most spoiled 13-year-old in the entire civilized world— and maybe Texas, too). At the moment she was inside that very auditorium holding auditions for her TV show.
* * * * *
"Now remember, kiddies," the TV director with a bad hairpiece said to nearly a hundred girls sitting in the auditorium, "we're looking for somebody to play Hesper's younger sister. It's going to be tough. You might have to memorize lines, remember where to move, and—" he lowered his voice—"the people in wardrobe may even want you to wear glasses."
All the wannabe actresses shuddered. "Eeew . . ."
"I know; I know," the director agreed. "Acting can be brutal. But it's the price one pays for stardom. Isn't that right, Ms. Breakahart?"
"That's right," Hesper said, flashing her perfect, glow-in-the-dark, bleach-toothed smile.
All the girls grinned, flashing their own perfect, glow-in-the-dark smiles. (Malibu Junior High girls have a thing about perfect, glow-in-the-dark smiles. They also have a thing about perfect skin, perfect tans, and perfect anything else their rich mommies and daddies can afford.)
The director turned to Hesper. "So, Ms. Breakahart, who would you like to audition first?"
Every little-sister hopeful's hand shot up like they all had to go to the bathroom.
"Oh! Oh! Oh!"
"Please Please! Please"
"Me! Me! Me!"
Chad Steel glanced up from the homework he was doing at the back of the auditorium. Earlier, Hesper had asked him to swing by and give her some emotional support. It seemed Hesper always needed his emotional support. And since they were supposed to be "a couple" and since Chad was the nicest guy in school, he helped her out when he could.
At the moment "helping out" meant watching Hesper audition her fellow students for a tiny part in her TV series. Lately, she'd been making so many enemies (courtesy of the New Kid) that Hesper figured this would be a great way to play kissy-kissy to everyone.
And it seemed to be working.
Even Miss Grumpaton, their fossilized English teacher, was there. "I could play her slightly older sister," she said. (I guess even old people have fantasies.)
But Mr. Beaker, the science teacher, had definitely gone too far. Honestly, who did the guy think he was fooling by wearing that wig and miniskirt?
The point is, everyone wanted to be a star. Which meant they were all slaves to Hesper Breakahart's slightest whim.
Recently on First Chapters
Have something to say about this article? Leave your comment via Facebook below!
advertise with us
Example: "Gen 1:1" "John 3" "Moses" "trust"
Advanced Search
Listen to Your Favorite Pastors