Forever Christmas
Christine Lynxwiler, Author
Tuesday, December 18, 2007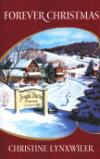 EDITOR'S NOTE: The following is an excerpt from Christine Lynxwiler's Forever Christmas (Barbour Publishing).
Chapter 1
Besides Jesus, I've had three real loves in my life. I married the first one, the winter we turned ten, in a Christmas wedding at the top of Snowy Mountain. In exchange for my heart, the sweet, green-eyed boy gave me a pop-top ring. But the sun came out, the snowman preacher melted, and I lost the ring in the slush. After that, my heart remained unscathed for thirteen years, a record I blew when I fell madly in love with a starving artist during my second year in law school. The ring he gave me wasn't made from a pop-top, but it might as well have been when I caught him kissing his old girlfriend the night before our wedding.
Other than a whirlwind summer romance with my best friend's brother—can you say rebound relationship?—I've never even been tempted to risk it all again. Well, technically I guess I risked it all again this year when I ditched law school and inherited a new hometown, my true true earthly love—Jingle Bells, Arkansas. Which works perfectly, because how can a town break your heart?
So at twenty-six, I'm done with runaway-bride excitement and planning my life to suit other people. I'm content to live out my days in my favorite place in the world, where the spirit of Christmas lives in our hearts all year long. Yes, that's straight off the Jingle Bells welcome sign out on the main highway. And it's corny. But true.
It's especially true here in my shop—aptly named Forever Christmas. The front is the store section,about fifteen hundred square feet of all things Christmas. But in the back, I have my workshop— just call me Santa—where I paint, sculpt a little, and make ornaments. And upstairs is the three-bedroom apartment, where my grandmother babysat me during most of my childhood. Now it's mine and filled to overflowing with happy memories. Other than wishing I could pay the bills the postman brings every day about this time, who could ask for anything more?
I sift through the mail. Everyone around here still sends out Christmas cards, so this time of year the cards tend to outnumber the bills, which is nice. Today, though, nestled amid the bright colors, a white business envelope catches my eye. It's addressed not to the shop but to me—Kristianna Harrington, Town Council Member— and the return address is Mayor Augustus Harding, City Hall.
In Jingle Bells, we conduct town business with meetings and phone calls, or even a holler down the street, but the United States Postal Service isn't normally involved. Few things are important enough to warrant a stamp. Wouldn't it be nice if Uncle Gus were officially confirming the rumor going around about a new business buying the old Banning Building out on Crystal Lake? The economy has gone downhill since the distribution center closed. Maybe this is the news we've been waiting for.
Propping my hip against the counter, I snag a snowman letter opener from my pen-and-pencil cup and rip open the letter.
Dear Town Council Members:
As you all know, Jingle Bells has been steadily losing tourist trade and employment opportunities since the distribution center closed a year ago. A new opportunity. . .blah, blah, blah. . .Online company Summer Valley Outdoors is interested in acquiring the empty Benning Building and opening their first brick-and-mortar store in our fair town.
Yep. I called that one, didn't I? An early Christmas present for Jingle Bells. "Investor surveys"… blah, blah, blah ... His letters are just like his speeches—a lot of words to say a little.
We would do well to set aside sentimentality for the sake of the people we represent and consider their petition to change the name of Jingle Bells to Summer Valley.
Have something to say about this article? Leave your comment via Facebook below!
advertise with us
Example: "Gen 1:1" "John 3" "Moses" "trust"
Advanced Search
Listen to Your Favorite Pastors