Forever Christmas
Christine Lynxwiler, Author
Tuesday, December 18, 2007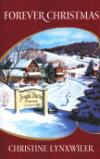 "I need to go out for a while. Will you watch the store?"
"Is it going to do tricks?"
"Was that a joke?" I mouth to Ami.
"I think so," she mouths back.
"That was a joke," Sarah calls in a wry voice. "I'm a little rusty but thought I'd give it a try."
I laugh. "I like it!"
"I'll be glad to mind the store."
"Thanks."
I drag Ami out of the shop and into the cold air. Gray clouds hang low in the sky today, matching my mood perfectly.
As we walk down the sidewalk, I point at the shop we're passing. "Just think, Blizzard Barbecue would probably have to change to Sandcastle Sandwiches."
Ami gives me a puzzled look.
"If this stupid name change goes through. What do you think they'd call Reindeer Games and Toy Store?" I shake my head. That's such a cool name."
She sighs.
"Wouldn't you hate for it to become Fun in the Sun Toys?"
"That would be awful."
"Are you being sarcastic? Look over there. I don't even want to think about what Snow Place Like Home Pet Boarding would be renamed. But I bet it wouldn't be pretty."
Ami smiles. "Actually I've always wondered about that name. Doesn't it kind of indicate that you should keep your dog at home instead of leaving it in their kennel?"
I shake my head. "You're missing the principle."
"Because I really don't see this as a possibility."
"Just the idea of it should terrify you."
She doesn't look terrified, but I keep up a running commentary, unable to stop imagining the horrors that would come with the name Summer Valley.
I don't shut up until we stand in front of the huge white manor. Each of the four columns is as big around as a good-sized tree. Beautifully filigreed lattice borders the second-story balcony. It feels like we've been transported back to the days of hoopskirts and lemonade on the porch.
"Does the town own this place, or is it personal property?" Ami whispers.
"I'm not really sure. Uncle Gus has been the mayor ever since I can remember. And his daddy was the mayor before him."
"Your drawl seems thicker here."
I nod. "Yours, too."
"I never noticed how huge the house is," Ami says, still whispering. "Remember those watercolor paintings you did of the mansion and the grounds when you were first learning to paint?"
I nod. I still have them in the back of my closet, to be honest.
"You used to want to be married here."
"I had good taste." A new flare of anger raises my voice to normal and gets me back in the real world. "And Uncle Gus should be ashamed. Willing to sell out his heritage—our heritage." I grab her arm. "C'mon."
At the front door, I bypass the doorbell button and grab the handle on the lion's head door knocker, happy to bang it against the door several times. Somehow the loud, hollow knocking suits my mood more than a delicate chime.
Inside the house, we hear a familiar male voice yell, "Where's my jacket?"
"The lion is in his den," I murmur.
A minute later, Mrs. Harding opens the door. "Can I help you?" For every ounce that Uncle Gus is a "good ol' boy," Mrs. Harding is "high society." I always thought the phrase "looking down her nose" was just an expression, but she really does it, her beady eyes glinting.
I give her my own glare. "We need to see the mayor."
"I'm sorry, but he's not here," she says, beginning to close the door.

© 2007 by Christine Lynxwiler
ISBN 978-1-59789-821-8
All rights reserved. No part of this publication may be reproduced or transmitted in any form or by any means without written permission of the publisher. This book is a work of fiction. Names, characters, places, and incidents are either products of the author's imagination or used fictitiously. Any similarity to actual people, organizations, and/or events is purely coincidental. For more information about Christine Lynxwiler, please access the author's Web site at the following Internet address: www.christinelynxwiler.com.
Cover Illustration: Donna Nelson
Published by Barbour Publishing, Inc., P.O. Box 719, Uhrichsville, Ohio 44683,
www.barbourbooks.com
Our mission is to publish and distribute inspirational products offering exceptional value and biblical encouragement to the masses.
Printed in the United States of America.
Have something to say about this article? Leave your comment via Facebook below!
advertise with us
Example: "Gen 1:1" "John 3" "Moses" "trust"
Advanced Search
Listen to Your Favorite Pastors