Francis Schaeffer
Colin Duriez, Author
Thursday, July 17, 2008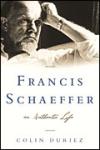 A biography of Francis Schaeffer must account for his remarkable impact on people of many types—the intellectual, the humble laborer, the scientist, the artist, the doubting Christian, the questioning nonbeliever; man, woman, youth, and child; white, black, hairy, and smooth. After Francis Schaeffer's first visit to Europe, still suffering from the effects of war in 1947, a wall of parochialism in his life began to collapse—a process quickened by his friendship with the Dutchman Hans Rookmaaker and his own long-standing interest in and love for art. A biography of him (or a critique, for that matter) cannot itself be parochial in any sense, intellectual or regional. He was larger than any denominational or political context.
In this book I write about Francis Schaeffer's strengths and flaws, placing him in the context of his times, portraying the formation of his ideas and the genesis of his lectures, writings, seminars, and movies, as well as the complex person and his relationships. I portray the establishment and impact of the L'Abri community, and the deeper idea of a "shelter," as Schaeffer's most representative and abiding achievement, showing the development of this unique phenomenon and revealing its importance in the context of church and recent cultural history. The man himself is pictured as in essence undivided, rather than consisting of two or even three Schaeffers, though he went through sometimes anguished change and growth. Even his late and very emphatic association with the American church in the Reagan years was for him a development from the L'Abri work, not a capitulation to what he called the "middle-class church."
Though Francis Schaeffer is undivided, the distinct phases of his life are all portrayed here, each illuminating the other phases: his working-class childhood in Germantown, Pennsylvania; his intellectual and cultural awakening and student and seminary years; the ten years as a "separated" pastor in eastern and midwestern America; his early years in Europe working with his wife Edith for Children for Christ and speaking widely on the dangers of a new, deceptive liberalism as regards the Bible; the crisis in his faith resulting in a deep experience of the Holy Spirit; the birth and early struggles of L'Abri in Switzerland; the gradual opening up of a wider ministry through taped lectures, international speaking, books, and the formation of new L'Abri centers, first in England, then in other countries; and, at the end of his life, the dramatic, celebrity phase of the movies and large seminars, in which Schaeffer extended his cultural analysis to the sphere of politics, law, and government, putting his long-standing role as a compassionate controversialist into the spotlight, with all its distortions of view.
As I was completing this book, Frank Schaeffer's Crazy for God was published. This is a confessional memoir of his life. While it vividly and sometimes poignantly portrays Frank's own life and journey, it added little to what I had already documented about his father—as a biographer I knew his strengths and weaknesses. Many of those interviewed for this book spoke of them openly. What I must remark on is Frank's portrayal of his father as keeping up a façade of conviction about his faith, especially in his final years. This bears no relation to what was the case. Francis Schaeffer was always open about his personal struggles and failings—this was the secret of his strength as a pastor and as a counselor. He emphatically did not divorce his inner and public life. When I was a young student, on my first or second visit to his L'Abri community in Switzerland, I once joined him on the descent to the chalet-style chapel for his regular Saturday night discussion. Suddenly he confided, "Colin, I feel like I'm about to jump out of an airplane without a parachute."
In an unpublished letter to his close friend and peer Hans Rookmaaker, perhaps that same year, he confided that he was low after working hard on the manuscript of The God Who Is There with an editor: "I am so very much behind in every aspect of the work that I feel in a rather depressed mood which means of course that it is a difficult time. However, the Lord continues to open doors and we are thankful. . . . I would be glad if you would continue to pray for me personally because . . . this is a bit of a low period for me. However, I suppose I will be dug out in a couple of weeks and then I will feel better."1
Have something to say about this article? Leave your comment via Facebook below!
advertise with us
Example: "Gen 1:1" "John 3" "Moses" "trust"
Advanced Search
Listen to Your Favorite Pastors