Francis Schaeffer
Colin Duriez, Author
Thursday, July 17, 2008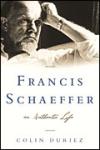 As my book reveals, Francis Schaeffer in the twilight of his life was as convinced of the truth-claims of Christianity and the efficacy of what he called the finished work of Christ as he was after his struggles in the early 1950s and even immediately after his conversion in 1930. Indeed, his conviction continued to deepen into his closing years, allowing him no respite from his grief over the lost condition of human beings and still expanding his empathy for those whom he encountered. In his final film series, Whatever Happened to the Human Race? He included a powerful episode about the historical underpinnings of Christian conviction.
What is the essence of Francis Schaeffer? Is it his system of theology, his books, his political campaigning, the existence of L'Abri? Ironically, though he attacked first the "old" modernism, then the "new" modernism of existentialism, neo-orthodoxy, and even, in anticipation, postmodernism, he demonstrates what might be called an existential Christianity—living in the moment; embracing the reality of existence; seeing the underpinning certainty of Christian faith in the historical death and resurrection of Jesus Christ; and reckoning on the specific intervention of the Holy Spirit in conversion at a point in time in a person's life, after which he or she passes from death to life. Schaeffer might be dismissed as a scholar or even original thinker (though it can be argued he was both, but particularly the latter), but his realistic, existential Christianity is remarkable and perhaps unique for someone of his biblical orthodoxy in his generation and is the secret, perhaps, of his impact on many people of diverse backgrounds and nationalities.
A full list of acknowledgments appears toward the end of this book, but I must here especially express my thanks to Christopher and Paulette Catherwood, for their brilliant and enthusiastic help with the interviewing for this book; to Ted Griffin, for his wise and thorough editing; to others who added to this book in a very special way, including Lane Dennis, John and Prisca Sandri, Ranald and Susan Macaulay, and Udo and Deborah Middelmann. Though not well enough to give me more than a warm smile and greeting, Edith Schaeffer's published records of the family and L'Abri history, and unpublished Family Letters must have a special mention. While Christopher, Paulette, and I interviewed, we received kindness and hospitality of a Dutch, Swiss, English, Irish, and American variety. I particularly remember the kindness of Marleen and Albert Hengelaar and the inspiring memories of the late Anky Rookmaaker as she reached back in her mind to the war years; the events she recounted seemed as yesterday. It is a privilege even to share a little in others' lives.
Francis Schaeffer
Copyright © 2008 by Colin Duriez
Published by Crossway Books, a publishing ministry of Good News Publishers
1300 Crescent Street Wheaton, Illinois 60187
All rights reserved. No part of this publication may be reproduced, stored in a retrieval system or transmitted in any form by any means, electronic, mechanical, photocopy, recording or otherwise, without the prior permission of the publisher, except as provided for by USA copyright law.


Have something to say about this article? Leave your comment via Facebook below!
advertise with us
Example: "Gen 1:1" "John 3" "Moses" "trust"
Advanced Search
Listen to Your Favorite Pastors