Get Off Your Knees & Pray
Sheila Walsh, Author
Tuesday, February 26, 2008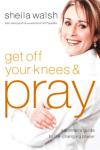 EDITOR'S NOTE: The following is an excerpt from Sheila Walsh's Get Off Your Knees & Pray (Thomas Nelson). Submit your questions about prayer to Sheila Walsh on our sister site, Chrisitianity.com!
Chapter 1
What Does the Bible Actually Say about Prayer?
Which of My Ideas Are from the Bible and Which Are from the "Church Lady"?
To be a Christian without prayer is no more possible than to be alive without breathing.
—Martin Luther King Jr.
Be joyful always; pray continually; give thanks in all circumstances, for this is God's will for you in Christ Jesus.
—1 Thessalonians 5:16
My ten-year-old son, Christian, is very computer literate, as are most fifth graders these days. Last Thanksgiving he saw me staring at a large, frozen turkey on the kitchen counter. Immediately assessing I had cooking issues, he said, "Just Google it, Mom."
"I beg your pardon?" I replied, eyeing the forbidding frosty fowl.
"If you're not sure what to do, just Google it," he said. "That always works for me."
So Google it I did, and I found the cooking instructions I needed.
Now, I realize I may have lost you already. If you are not computer savvy, I empathize. I still find it hard to believe I can pick up a piece of plastic—commonly called a telephone—punch in a few numbers, and in seconds be talking to my mother on the west coast of Scotland. But it doesn't stop there. Life marches on at an unbridled pace these days. Now I can go online with my laptop, use a search engine like Google, punch in "Help me! My turkey is still frozen!" and within moments receive the message, "You should have taken it out last night, you moron!" (No, not actually. What I did receive back was a very detailed plan for thawing and cooking an award-winning roast beast.)
Google and other online search engines have not only brought the world to our doorstep, but they have also taken us to the world. Before I left for Nairobi, Kenya, in December 2006, I set up Google Earth on my laptop for Christian. Each evening he could log on and, with the punch of a few keys, locate a live shot of our house in Frisco, Texas. Then he could type in my location in Africa, and the satellite would pull out as the globe on the screen spun to Africa and focused on where I was that day.
Wow! The world is getting smaller every day. In many ways that's a good thing, but in other ways not so much. Take prayer, for example. Since nowadays just about anyone can reach out and touch us, we're being bombarded from all directions with a hodgepodge of ideas on how to relate to God.
Out of curiosity, I decided to Google the word prayer. I couldn't believe the response—a smorgasbord offered in the name of communion with almighty God. One Web site detailed a free mini course that would teach me about the "seven spirits of God." Another site offered telephone miracles twenty-four hours a day that would enhance my health, my finances, and my relationships.
One interesting site even showed me pictures of what prayer should look like. It said if I was a Christian, I should bow my head and clasp my hands together. If I was a Native American, I should dance; if a Hindu, chant; if a Sufi, whirl. If I was an Orthodox Jew, I should sway, and if I was a Quaker . . . I should be quiet!
The Wisdom of the Young
Googling prayer proved to be more confusing than helpful, so I asked some of my son's friends this simple question: "What does the Bible say about prayer?" Their responses were interesting, to say the least. Here are a few:
Have something to say about this article? Leave your comment via Facebook below!
advertise with us
Example: "Gen 1:1" "John 3" "Moses" "trust"
Advanced Search
Listen to Your Favorite Pastors