Get Off Your Knees & Pray
Sheila Walsh, Author
Tuesday, February 26, 2008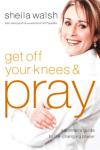 "Don't even try it if you're mad with your dad—God won't be listening."
"Wash your hands first!"
"Remember to say amen or everyone's food will get cold!"
"Think about others before you think about yourself."
"Just concentrate on God and try not to fall asleep."
Hmm. Not quite what I'd been looking for. Their answers conveyed that there are right things to do and wrong things to do when we pray—and you'd better get it right if you even have a hope of God listening to you! Their responses also seemed to indicate that they had been corrected in their past efforts at prayer and were working with a fresh set of ground rules.
But something besides their responses jumped out at me. Interestingly, the boys' tone of voice changed when I asked them about prayer. Even my own animated son became a Francis of Assisi as he responded—quiet, gentle, reverent. (I have to tell you, however, that moment soon passed.) This indicated to me that even at a young age, we're conditioned to believe that fellowship with God is some sort of lofty and theological transaction. The boys' attitude mirrored what they had seen others do in an attempt to be "religious." They had no clue how to answer the question accurately, but they sure did put on a good show while they were talking about it!
When I thought about it, I had to confess I've sometimes done the same. And I'm sure you have too. Think about it—how many times have we been asked to pray in public and instead of talking with God using the manner and words we offer at home, we find our "spiritual" voices, religious vocabulary, and pious pose?.
Surely that can't be how God wants us to relate to him. So what does the Bible actually tell us about prayer? It seemed a good time to go to the source and investigate.
What Does the Bible Tell Us about Prayer?
As I pored over the Scriptures, searching for what God has to say about prayer, several things became immediately clear:
We are called to pray with a clean heart: "If I regard iniquity in my heart, the Lord will not hear. But certainly God has heard me; He has attended to the voice of my prayer" (Psalm 66:18–19 NKJV).
We are called to pray, believing: "And whatever things you ask in prayer, believing, you will receive" (Matthew 21:22 NKJV).
We are called to pray in Christ's name: "And whatever you ask in My name, that I will do, that the Father may be glorified in the Son" (John 14:13 NKJV).
We are called to pray according to the Father's will: "Now this is the confidence that we have in Him, that if we ask anything according to His will, He hears us" (1 John 5:14 NKJV).
On second thought, even with these "clear" instructions I still had questions. So I took a closer look at these four directives.
A Clean Heart
According to Psalm 66:18, our purity of heart is so essential that if we "regard iniquity in [our] heart, the Lord will not hear" (NKJV). And in Psalm 51:10, David urges God to give him "a clean heart" (NKJV).
What exactly is a "clean heart"? How clean, exactly? Scrubbed-spotless-till-you-can-see-your-reflection clean? Or quick-tidy-up-before-the-guests-arrive clean?
As women, our hormones lead us on a lively dance for most of our lives. So what do we do on those "days of the month" when we don't feel very holy or sometimes even sane? Does God hear our prayers when our emotions are taking us on a roller coaster ride? What if we want to have a clean heart, but we're having trouble with it? What if we believe we have a clean heart, but there is some little seed of unforgiveness buried deep inside us we've forgotten all about? Are we only responsible for the sins we remember or for every little offense we've committed over our entire lifetime?
Have something to say about this article? Leave your comment via Facebook below!
advertise with us
Example: "Gen 1:1" "John 3" "Moses" "trust"
Advanced Search
Listen to Your Favorite Pastors